archived

BigShots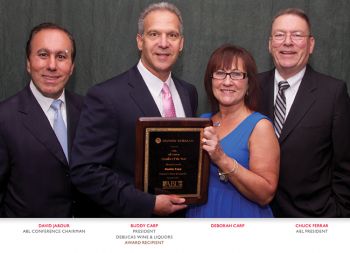 DEBUCAS WINE & LIQUORS - BROWN FORMAN RETAILER OF THE YEAR WINNER

Debucas Wine & Liquors received this year's Brown-Forman "Retailer of the Year" for Massachusetts. The awards were presented to retailers across various states at the ABL 2O13 Annual Convention.
Buddy Carp, President of Debucas Wine & Liquors, located in Raynham, is on the Board of Directors for the Massachusetts Package Store Association. Buddy was an active member of the retailer committee that worked with others to defeat the 2OO6 ballot question which attempted to double the number of alcohol retailers in the state. Carp, who is currently the Chairman of the Strategic Planning Committee for MassPack, said, "My main objective is to play whatever small part I can to maintain a healthy business environment for the independent beverage alcohol retailer along with a safe responsible shopping environment for the consumer." In addition to supporting dozens of community fund-raising events, Buddy is a founding board member of the Michael Shawn Sousa Foundation, a non-profit organization dedicated to understanding and preventing suicide through research, advocacy and education.