archived

BigShots

The Ted Rubin Memorial Golf Tournament, which took place at The International Golf Club in Bolton, MA, raised more than $25O,OOO to benefit leukemia research at Dana-Farber Cancer Institute. Ted Rubin, the Chief Executive of Ruby Wines, sadly lost his long courageous battle with leukemia last fall. To honor his memory, Ted's family and friends decided to raise money for Dr. Richard Stone's leukemia research at Dana-Farber where Ted had been a patient.

More than 3OO people attended the golf tournament, silent auction and food and wine extravaganza, which included chefs from the area restaurants: Marco, Pigalle, Scampo, Towne, Vinoteca di Monica, Miel, Tresca, Radius, Stella, Capital Grille, Ten Tables, Carmen, Clio/Uni, Prezza, Market, Ambrosia Events, Mistral, Eastern Standard, Aura at the Seaport Hotel, and the Barbara Lynch Gruppo. The Tournament was presented by Clos du Bois, Rex Goliath, the Friends of the Ted Rubin Memorial, and Paul and Dan Fireman.

This tournament is part of Jimmy Fund Golf, the nation's oldest and largest grassroots golf program that works to fund cancer research. For more information about Jimmy Fund Golf, visit jimmyfundgolf.org.
---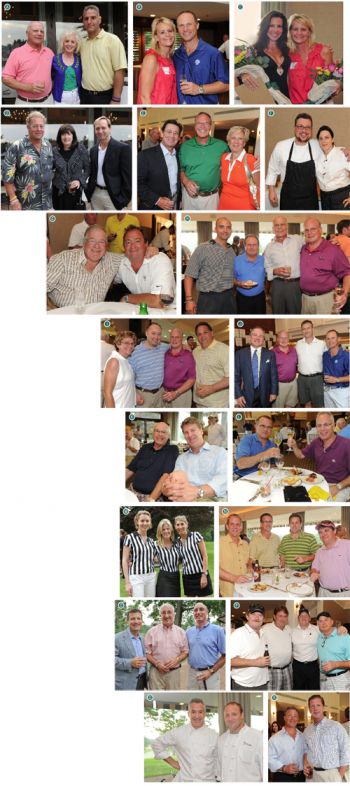 A ROBERT RUBIN
HILARY RUBIN
DOUG RUBIN

B ANNIE RUBIN
BRAD RUBIN

C STACY RUBIN
ANNIE RUBIN

D JOHN ROSENBERG
SUZANNE FOUNTAIN
TERRY MCGOWAN

E CARMEN MARTIGNETTI
DENNIS DELANEY
LINDA TAUB

F COLIN LYNCH
BARBARA LYNCH

G HARVEY ALLEN
JAMIE MAMMANO

H BRAD GROPER
DAVID FIELDS
BOB SELBY
WAYNE NIEMI

I DAWN KESSEL
MICHAEL QUINLAN
WAYNE NIEMI
MIKE REARDON

J BOB DONOVAN
WAYNE NIEMI
RICK PIGNATARO
BRAD RUBIN

K DONALD COREY
JIM ELDER

L TOD UMBACH
STEVE RUBIN

M MARYANN SIEGEL
BARBARA NASON
AMY SACHS

N DAVE SAMPLE
PETE DICKASON
TAYLOR TIBBETTS
IAN DAVIES

O JOE LOSARD
STEVE SALON
ANTHONY AMBRIANO

P BOB CURTIN
BILL GARRAHAN
KERRY DION
A.J. MORAN

Q TONY AMBROSE
ANTHONY CATURANO

R CHRIS NEWMAN
CHRIS LEBHERZ