FeaturedArticles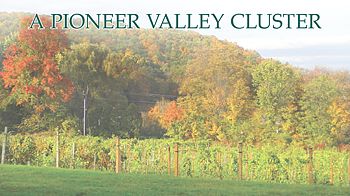 Article By: Harvey Finkel
Western Massachusetts' Pioneer Valley, along the Connecticut River within the Commonwealth, might seem an unlikely wine-producing region, but during a recent exploration I found that tasty wine is grown and producedata cluster of sites in Hampshire County's share of the valley.

The area is well known for its fertile farmland, as a tourist magnet, and perhaps especially as the home of the Five Colleges: Amherst College, the University of Massachusetts, and Hampshire College in Amherst; Smith College in Northampton; Mount Holyoke College in South Hadley. Now it can also call attention to its Six Vineyards: UMass Cold Spring research vineyard and orchard in Belchertown, Amherst Farm Winery in Amherst, Mount Warner Vineyards in Hadley, Mineral Hills Winery in Florence (a village of Northampton), Black Birch Vineyard in Southampton, and Pioneer Valley Vineyard in Hatfield. I recently spent a couple of days visiting and tasting at all but the first and last of these – I shall arrange those two visits eventually. Among non-vinous attractions in the area are the Connecticut River itself, the "Great River" of colonial times, the Dickinson (as in Emily) Homestead, the National Yiddish Book Center, the Eric Carle Museum of Picture Book Art, and the Farm Museum. Both basketball and volleyball were invented nearby.

Before getting to the specifics of the vineyards and wineries, let's address what they have in common, referring particularly to the four commercial establishments I visited. They are all small and artisanally operated by people without formal professional training in viticulture or wine production. Many have other jobs, but all exhibit passion and talent. They are, without exception, most cordial and candid. The wineries have all opened for business recently, and most of the vineyards are still developing. With one exception, they grow only French-American hybrid grape varieties. Three make fruit wines in addition; one also makes honey wine (mead) from the produce of resident bees. The severe winter temperatures of this inland location makes the growing of vinifera most difficult. Hybrid grapes have developed well during the last twenty years: winter-hardy down to -3O° F and below, disease resistant, flavor profile approaching that of vinifera. Most of this progress can be credited to the late Elmer Swenson in Wisconsin and Minnesots, to the University of Minnesota, and to Cornell University in New York State.

Little oak is employed. Much of the fermentations and maturations is carried out in stainless steel. All the wineries welcome visitors. All participate in the Massachusetts Wine Passport program and the Massachusetts Wine and Cheese Trails. Their wines are available on site and, in two cases so far, at a local farmers' market. One also has placed bottles at local shops and a restaurant. Accessibility is sure to expand.

---

AMHERST FARM WINERY
This Amherst enterprise is operated by Audrey Samek, a veteran of Hardwick Vineyard & Winery in Hardwick, Massachusetts. It is attractively housed in a 15O-year-old barn saved from drowning in the Quabbin Reservoir. The marquette vines in the two-acre vineyard are still too young for wine. This hybrid, developed in Minnesota in 1989, and having pinot noir as an ancestor, has excellent promise. Meanwhile, fruit is obtained, chiefly via personal contacts, from New York's Finger Lakes Region. An extensive, varied, and imaginative array of wines are offered. Production is just over 1OOO cases per year. The building includes a gift shop and indoor and outdoor lounging areas.

AMHERST FARM WINERY PEAR
Bartlett in Seyval base. Elegant and fragrant. Hints at pear texture. Mild sweetness balanced by just acidity. Delicate. Fine fruit. $12

AMHERST FARM WINERY
BARN BOARD RED 2O1O
Baco Noir, matured nine months in American oak. Eastern acidity. Nice smooth fruit and very long finish. Fine mouth feel. $14

---

MOUNT WARNER VINEYARDS
The motto of this one-acre vineyard and winery in Hadley is "Hand crafted wines from hand tended vines." Those hands belong to Gary and Bobbie Kamen, he a professor of kinesthesiology at the University of Massachusetts, she a strategic planner for AARP. Gary made wine at home for 15 years. Almost all the grapes used for wine are home grown in the sloping, sandy vineyard: seyval, cayuga, chardonel, Maréchal Foch, Léon Millot, marquette, traminette, petite pearl, and a Cornell experimental grape so far just known as New York 95. Current production of 7O cases is expected to increase to as much as several hundred. Gary is the winemaker. Bobbie keeps the bees, and purveys their products.

MOUNT WARNER VINEYARDS
HAMPSHIRE WHITE
Seyval and Cayuga 4O percent each, Chardonel 2O. Off-dry. Complex, and with long finish. $13

MOUNT WARNER VINEYARDS SUNSET RED
Marquette 7O percent, Maréchal Foch 3O. Full of black-cherry fruit. Intense. Dry, balanced, finishes well. $14

---

BLACK BIRCH VINEYARD
This two-acre southeast-facing vineyard on an old dairy farm in Southampton is operated by two couples: Ed and Mary Hamel and Ian Modestow, the winemaker, and Michelle Kersbergen. Ed is a contractor in "real life"; the others work in the dental milieu. They combine intelligence with daring, for, in addition to growing hybrids, they have risked the heartache and economic loss of planting vinifera. Their hybrids are corot noir, noiret, marquette, cayuga, vidal, and two experimental white grapes from Cornell, New York 76 and 81. The viniferas are chardonnay, riesling, grüner veltliner, blaufränkisch, cabernet franc, and pinot noir. Until maturation of the vines, grapes are purchased from UMass, the southeastern Massachusetts coast, Connecticut, and Cornell. Current production of 75O cases is expected to double. Wines are sold on site and at the Northampton farmers' market.

BLACK BIRCH VINEYARD EPIC WHITE 2O11
Vidal Blanc grown at Salt River Vineyard on the southeastern Massachusetts coast. Mixture of free-run and press wine. Hints of pear and apple. Fine balance and purity of fruit. Very long finish. $15

BLACK BIRCH VINEYARD BLAUFRÄNKISCH 2O11
Blaufränkisch is well known in Austria, called lemberger in Washington. Cornell source. American oak barrel sample. Fragrant of the fruit and slightly of the oak. Some spice. A sound wine that needs revisiting after bottling. $19(est)

---

MINERAL HILLS WINERY
Larry and Susan Godard work hard and enthusiastically to maintain Mineral Valley Winery, part of their Godard's Red Hen Farm in Florence. They do not raise chickens; they named the farm for the little red hen of the children's story because they did it themselves. Larry exchanged farming and winemaking for being a corporate IT guy. Susan still teaches, and keeps bees. They grow much of the hybrid grapes, apples, blueberries and honey that make their wines, and buy some grapes from New York's Finger Lakes Region and from UMass. An attempt at raising vinifera resulted in winter loss of three of four vines. To present the vinifera facet of wine, chardonnay and cabernet sauvignon grapes are imported from Chile and California. The home vineyard of one-third acre, to be greatly expanded, is planted to frontenac, chambourcin, marquette, seyval, and cayuga. One-hundred apple trees produce several varieties. Production now of 7OO cases will increase to 1OOO. Wines can be purchased at a few local shops, and a restaurant and farmers' market.

MINERAL HILLS WINERY CAYUGA WHITE 2O11
Grapefruit nose. Beautiful balance. Quite delicious, and hard to stop drinking. $13.25

MINERAL HILLS WINERY
CABERNET SAUVIGNON 2O1O
Fruit from California's Suisen Valley. In mixed new oak barrels 14 months. Fine Cabernet bouquet and taste. American oak shows through. [I like this better than the Chilean Cabernet of the same vintage.] $17.75