FeaturedArticles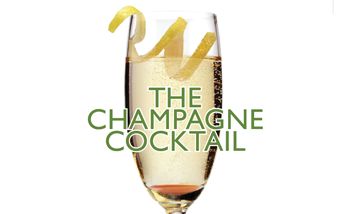 Article By: Pink Lady
With the holidays upon us,
who doesn't want to raise a glass
of something elegant and sparkly?

---
And for those mornings after you've had one too many, make no mistake – Champagne can sub in beautifully for a Bloody Mary as a hangover cure.

As Charles H. Baker, Jr. wrote in "The Gentleman's Companion" circa 1939, when it comes to hangover cures, "First on the list marches Champagne . . . a plain chilled pint of Champagne per person with two or three simple biscuits is probably the finest picker-upper known to civilized man. The champagne must be very cold, and can either have bitters, a little added brandy, or both."

A classic Champagne cocktail is easy to build and a fun drink to serve on your way to tomorrow morning's hangover. It makes a cameo in film noir, as well, ordered by Bogart's Paul while at Rick Blaine's gin joint in Casablanca. Mix up one of these as you hunker down with classic cinema elegance.

---
THE CHAMPAGNE COCKTAIL

Soak a sugar cube in Angostura bitters.
Drop into the bottom of a Champagne flute.
Top with Champagne.
Garnish with a lemon twist.

The sugar cube melts, sweetening the drink,
with Angostura's firm backbone grounding the cocktail.
A great aperitif!