FeaturedArticles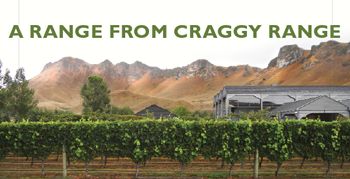 Article By: Harvey Finkel
Although the 1999 was Craggy Range's first vintage to appear on the market, more than ten years of preparation had been required to satisfy the exacting standards of the company's principals. Craggy Range is led by New Zealander Steve Smith, an internationally distinguished viticulturalist, and American-born Australian international businessman Terry Peabody and his family.

Smith, also a master of wine, is the director of wine and viticulture of Craggy Range. Terry Peabody is chairman of the company. His son, Terry, Jr., or TJ, is managing director of sales and marketing. Other members of the Peabody family help run the complex operations, which include a restaurant, a wine club and lodgings. The recently promoted chief winemaker is Matt Stafford, who trained in New Zealand, and then had major-league experience there and in Australia, California, and France.

New Zealand is a geologically and vinously young, isolated, unpolluted, long, and thin pair of islands. It stretches from subtropical in the far north to the nearly subantarctic at its southern extreme. The climate is maritime and relatively cool. Fertile soils and ample moisture mandate careful canopy management. Its mountains create a mix of elevations and useful rain shadows. Soils are quite varied.

Looking forward, Craggy Range nurtures vineyards on both islands. The Gimblett Gravels Vineyard in the Hawke's Bay region of the eastern North Island, once the Gimblett family's winter livestock enclosure, is a warm 257-acre property, of which 191 acres are currently planted with merlot, cabernet sauvignon, syrah, chardonnay, malbec, cabernet franc, viognier, and petit verdot. The Tukituki property, also in Hawke's Bay, contains the main winery and the company's headquarters. Tukituki in Maori refers to "demolish" in the process of forming the river. Kidnappers Vineyard, named for an incident during Captain Cook's first voyage to New Zealand, is on the coast of Hawke's Bay. Its 42 acres of clay loam grow chardonnay and viognier. The Te Muna ("secret place") Road Vineyard in Martinborough, at the southern end of the North Island, across the Cook Strait from Marlborough, is cooler. Of its 35O acres, 233 are planted: pinot noir and chardonnay in the old stony soil of the upper terrace; sauvignon blanc in the younger soil of the lower terrace. There is also a little Riesling.

Moving to the South Island, we next encounter the Avery Vineyard, relatively warm in Marlborough. Sauvignon blanc is the specialty, grown in its 19 acres of older stony soil. We'll not be seeing the Riesling of Marlborough's Fletcher Family Vineyard any longer. Finally, well to the south in cool Central Otago, is Calvert Vineyard, whose pinot noir is shared among three wineries: Felton Road, Pyramid Valley and Craggy Range. Its complex water-holding soil covers 1O acres.

Craggy Range now produces 6O,OOO cases of wine annually. This total seems likely to rise. Eight of the wines are listed as currently available in Massachusetts. From the Family Collection and the Prestige Collection, and costing from $22 to $1OO per bottle, they include Riesling, Syrah, Sauvignon Blanc, two red Bordeaux blends, Pinot Noir, and two Chardonnays. [See my notes at right on the four I recently tasted.] The Varietal or Family Collection contains two Sauvignon Blancs, two Chardonnays, two Pinot Noirs, two red Bordeaux blends, a Riesling, and a Syrah. All are single-vineyard, estate-grown wines. The Prestige Collection is composed of single-varietal blended wines of exceptional quality, mostly small lots grown at Gimblett Gravels: Le Sol ("the soil"), a Syrah; Sophia ("wisdom"), a Bordeaux blend headed by Merlot; Les Beaux Cailloux ("beautiful gravels"), a Chardonnay; and Aroha ("love"), a Pinot Noir. Additionally, the Limited Editions Collection is expected to become available late this year at the winery and selected restaurants.

---
SAUVIGNON BLANC 2O11 Te Muna Road Vineyard
Fermented in a combination of French oak barriques and stainless steel. Three months maturation before bottling.
None of the oak new. Excellent acidity and intense lime-accented fruit. Perhaps less verve and more complexity than typical Marlborough Sauvignon. 13,OOO cases imported to US. $22
CHARDONNAY 2O11 Kidnappers Vineyard
Fermented in a mixture of vessels, 12 percent new oak barriques, then matured for five months. Lean, with refreshing fruit and lemony acidity. Oak is subtle. 2OOO cases imported. $22
TE KAHU 2O1O Gimblett Gravels Vineyard
Te Kahu means "the cloak" referring to the mist that envelops the hills around the winery. Merlot 8O percent, the two Cabernets 8 each, Malbec 4. Aged 13 months in French oak barriques, 28 percent new. Tannins and oakiness to resolve with time, then dark fruit on firm structure will show to advantage. 18OO cases imported. $22
PINOT NOIR 2O1O Te Muna Road Vineyard
1OO percent hand harvested and destemmed. Nine months in small oak cuves, 31 percent new. Balanced, delicious, characteristic fruit of middle weight. A fine wine. 12OO cases imported. New Zealand is one of the planet's few worthy pinot noir producers. $5O