FeaturedArticles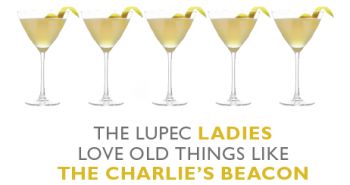 Article By: Pink Lady
We LUPEC ladies like old things:
Vintage hairdos, classic cars and of course endangered cocktails. It is this penchant for the past that made us particularly delighted to develop a cocktail for a recent event at the Gibson House Museum.

The Gibson House is essentially a Victorian time capsule right in the heart of Back Bay. It's an unspoiled single-family residence that was once home to the well-to-do Gibson family who first moved to the Beacon Street address shortly after it was transformed from marsh to fashionable neighborhood. The house is still filled with the original furniture and personal possessions. The kitchen, scullery, butler's pantry, water closets, formal rooms, and private family quarters remain intact, making it a fun place to poke around if you're into old stuff like us.

The last Gibson to take up residence in the house was Charles Jr., a poet, travel writer, horticulturalist, and colorful bon vivant well known for appearing in formal attire (a morning coat, spats and a cane) long after such fashions were out of fashion, and dining exactly at six each evening at The Ritz, often in a full-length fur coat. He also made his own bathtub gin during Prohibition – which was apparently quite good. Quirky Charlie was known to rope off the chairs during parties with gold cords, inviting guests to sip their martinis and tea on the stairs so as to avoid messing up his stuff.

To Charles Jr. we raise this glass, a modern cocktail developed in an old fashioned style with a gin made in Gloucester by one of Massachusetts' own new American distillers, Ryan & Wood.

---
CHARLIE'S BEACON
1 ounce of Ryan & Wood Knockabout gin
1 ounce of fino sherry
1 ounce of Cocchi Americano.
Stir ingredients with ice in a mixing glass + strain into a chilled cocktail glass + garnish with a lemon peel.