FeaturedArticles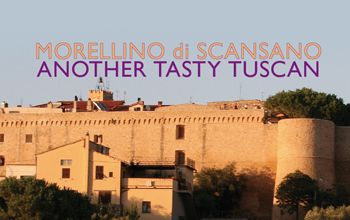 Article By: Harvey Finkel
Tuscany is most generous in sharing its treasures. Some come in bottles. I'd like to call attention to one of its less familiar, more affordable wines, Morellino di Scansano – sangiovese informed, grown in the region's southwest bordering the Tyrrhenian Sea. We've not heard much about this portion of the Maremma, the mostly hilly area with the medieval town of Scansano as its focus. Grosseto is its largest urban center. It seems clear, however, that we shall be seeing more and more of these wines.

Lying between the drainage areas of the 0mbrone and Albegna rivers, ranging in elevation from slightly above sea level in the west to 550 meters inland, the area has varying soils and a mild climate, somewhat warmer than the more familiar Tuscan zones. Rain falls mostly in fall and winter, averaging 620 millimeters. (Irrigation is permitted only when the need is urgent.) The more serious wines tend to come from the higher slopes.

There is evidence of viticulture here as far back as 500 BCE, Etruscan times. The 19th century saw two developments. Viticulture and winemaking took a leap into the modern era, and the once-isolated area became a popular refuge from the summer malaria that plagued more populous parts. Morellino di Scansano achieved D0C status in 1978, D0CG in 2007. During a recent visit, the Consorzio Tutela Morellino di Scansano D0CG afforded me the opportunity to become familiar with the wines firsthand.

Wine production has grown rapidly in recent years. There must be about 200 producers, including a few famous names from central Tuscany. About 900,000 cases of wine are produced from 1500 hectares, which now include a few crus. A growing proportion is exported to the US. The wine must contain a minimum of 85 percent sangiovese, which is known by the local name of morellino ("little brown one"). 0pinions differ on whether the name is derived from the color of the locally favored horses or from Tuscan cherries. The remaining 15 percent may come from any of the non-aromatic red grape varieties authorized in the region. The normale needs not see wood at all; in fact, it needs hardly any aging. The riserva must age at least two years, one of which in wooden barrels. The wines are soon drinkable, but not fragile. Their tannins are soft, their fruit ample, evoking black cherry. Averaging $15 to $20 retail here, they certainly warrant our attention. I made notes on six of the wines I tasted, five by courtesy of the consortium, one via its Massachusetts distributor.

---

MARTETO 2011
Azienda Agricola Bruni
Sangiovese 85 percent, Syrah 10, Alicante 5, grown at 150 meters. Callow grapy-fruity, juicy. Good of its kind (but not my style). Almost exuberant fruit. Well balanced. 120,000 bottles produced.

COLLI dell'UCCELINA 2009
Laselva
Single-vineyard sourced organically grown Sangiovese 85 percent, Merlot 15. Matured 8 months in Allier barriques. Dark. Deep ripe black-cherry fruit. Although young, is well settled. Balanced and clean. Not complex, but tastes good. 20,000 bottles.

MORELLINO di SCANSANO 2010
Fattoria le Pupille
0wned by Elisabetta Geppetti, president of the consortium. Sangiovese 85 percent, Malvesia Nera 10, Alicante 5, from two vineyards at 280 meters. Aged 6 months in stainless steel and 2 in bottle before release. Moderate color. Fine nose. Polished smooth mouth feel. Balanced and long. Good acidity. 320,000 bottles.

POGGIO VALENTE RISERVA 2008
Fattoria Le Pupille
In a taller bottle with a longer cork and costing a lot more, this single-vineyard riserva contains Sangiovese 97 percent, Merlot 3, grown at 280 meters. The wine spent 15 months in French oak barriques, 40 percent new, the rest second use, then 7 months in bottle before release. It contains 14.5 percent alcohol, a little more than usual for the zone. Good color. 0aky nose. More complex, more tannic than the others, with long finish. Too woody for my taste. 45,000 bottles.

TEMPO 2009
Terre di Talamo
All or nearly all Sangiovese. Good quality fruit. Balanced. Finishes well. 0verall, good general potential here. I would suggest a little more aging, perhaps in well-used large oak, for the normales, and caution in riservas against too much new barrique aging.

TERRE de FIORE 2010
Tenute Costa
From a firm that also reaches up to the Langhe. All Sangiovese. Six months of bottle age. 0f moderate saturation. Appetizing characteristic nose. Ripe, full, balanced, savory. Good fruit. 50,000 bottles.