FeaturedArticles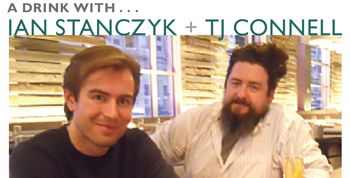 Article By: Brandy Rand
The summer before entering business school, Ian Stanczyk decided to do a "fun" project: build an iPhone app that would tell him when his bartender friends were working. An early iteration of the app was called "Boston Flip", after Stanczyk's signature cocktail at the time. After a few months, he realized he had something special. Industry types and cocktail enthusiasts loved the concept – tracking down your favorite bartender became less of a gamble and more of a certainty. Business school was put on hold, and he began looking for a partner in the venture. It was recommended by more than one person that he talk to TJ Connelly, a programmer-turned-bouncer-turned-DJ (for the Red Sox, among others) and all-around nightlife fixture. Connelly, who was still dabbling in software development, recognized that onthebar was the perfect marriage of location-based social media and the burgeoning cocktail scene. With a growing user base in Boston and beyond, this app is poised to become the beverage industry's must-have tool. Trust me, download getonthebar.com now.

BRANDY RAND What inspired you to start onthebar?
IAN STANCZYK I wanted to know where my friend, and ex-college roommate, Ted Kilpatrick was working so I could go hang out with him – it was as simple as that. Folks in the bar world are tough to get in touch with and work schedules opposite to us "normals". They're hard to find and harder to spend time with. I wanted an easy way to know when and where my buddy was working so I could go in and say "hi".
TJ CONNELLY I was an early user of Foursquare in 2OO9 and immediately saw the benefit of social exploration. I got a bunch of local bartenders signed up, and for a few months we all used it to visit each other at the different bars around the city until Foursquare issued an edict against checking in at your place of work. At the time I regarded the construction of mobile apps as interstellar wizardry, so I didn't think much more about it until I was introduced to Ian last year.

BR For people who have yet to sign up, how does it work?
TC Our app, onthebar, helps build relationships between bartenders and guests. Most of our users on both sides of the bar follow their favorite bartenders, and when it comes time to get a drink after work they can make an informed choice on where to go. When a guest visits a bartender the app can suggest a drink special or show you that other guests that evening have enjoyed a particular drink. Bartenders, meanwhile, are assured the seats at the bar will fill with friendly faces. We've gotten a lot of great feedback, but some of my favorite moments come from people claiming the app helps them navigate a bit in the cocktail scene.
IS It's extremely simple. If you're a patron, download the app and follow any bar staff you're friendly with. You'll begin getting real-time updates from them about when and where they're working, what's happening at their bars, and any new drinks they've created. If you're a bartender, sign up and create a profile and start checking in at the beginning of your bar shifts. If you're on iPhone, the app will start automating this using GPS once you've checked in at a bar a certain number of times. Then, the next time a regular asks, "Hey, when are you working next?" tell them they should follow you on onthebar to get your updates and they'll never have to ask again. You'll begin to notice them coming by more often.

BR How many bartenders are using the app in Boston, and what feedback have you gotten from them?
IS We have over 1OOO bartenders in Boston representing over 5OO bars and we're growing rapidly. Feedback is extremely positive. People love having the ability to connect with their regulars and, of course, who doesn't love having a bar full of good, fun patrons?
TC Boston's bartenders have been wonderfully supportive. We've had great responses in other cities as well, but what's great about the 'big family' nature of Boston's industry is running into people around town and they'll pull you aside for a quick question or to point out a place we could improve. We're incredibly fortunate to have a community that understands the app both helps welcome guests and invites visits from friends within the industry.

BR Why do you think people have such a connection to bartenders?
TC The relationship between bar staff and guests has always struck me as one of the most personal in the industry, which is why we started here. People certainly travel for great food or music, but very few hospitality experiences are as direct as simply sitting down and spending a couple hours with a great bartender.
IS Aside from the fact that they're serving them booze and making them happy? The bartender is the most visible role in a restaurant. You're greeted by the hostess. You order from and perhaps chat quickly with your server. The chef makes the food but is mostly anonymous. Even the famous chefs, how often do you actually talk to them, let alone see them? The bar staff on the other hand, you have a conversation with these people. There's a real bond that happens between bartender and patron and, of course, it helps that the job has evolved into a profession and cocktails are going mainstream.

BR How important is social media to the bar business from your perspective?
IS It's extremely important and only becoming more so. Look, it's a cultural shift: people more and more look to the web and, particularly, to influencers on the web when making decisions. onthebar creates personal connections between your staff and your customers. Previously, that relationship only existed within the walls of your business. Now it lives in a customers' pocket and travels with them wherever they go and we know it works to drive business. So, if your staff isn't using it your business is missing out.
TC Consumers are turning to social media as part of the decision making process in every industry, but as with anything there's a wide range of quality in the interaction. Too many businesses use generic techniques designed to gather metrics, but the real measure of a social media is its ability to nurture a continuing relationship between the business and the customer. Some people decry services like Twitter as a sort of nerd palace, but in truth those same people are ignoring that, regardless of the medium, social media is inherently about being social. Bars and restaurants are lucky in that their business is about being personal, so a well executed program can be as welcoming as a real live smile when a guest walks in the front door.

BR How have you seen the role of the bartender evolve?
TC I think the evolution has been mutual on both sides of the bar. Guests and bartenders alike have come to appreciate the value of top spirits and fresh juices in craft cocktails, and across the board people are putting more thought into the choices they make, no matter the industry. The growing number of spirits, wine, beer, and other ingredients available offer a greater range of possibilities, and bartenders are finding new ways to incorporate these elements into the bar experience and draw the interest of the consumer.

BR What does the future hold for onthebar?
IS There's no reason why, in three years, every bartender in every major US city wouldn't be using onthebar. It's a win for everyone involved. Patrons get the elevated experience of being served by someone they know and are comfortable with. Bartenders grow a following of regulars and, ultimately, earn more tips. Restaurants get more loyal customers who keep coming back again and again.
TC I'm very excited about integrating spirits directly into the guest experience. Much as people's enthusiasm for particular ingredients (pork belly, truffle, etc) have driven them to sample dishes in different restaurants in the last few years, I think the formerly casual consumer is becoming more aware of the distinct flavor of individual cocktail ingredients, whether it's Chartreuse or just a specific brand of whiskey they particularly enjoy. I'm looking forward to helping develop that experience.

BR If you had to work a bartender shift one night, where would it be?
TC I actually have worked a guest bartender shift at Trina's Starlite Lounge in Inman Square. I spend enough time at bars that I'm good at the basics but comically terrible at making drinks, which people seem to enjoy.
IS No.9 Park would be my obvious choice because it's where I like to go and I know all the staff. But, maybe Wally's; listening to really great, raw music while hanging out. What could be more fun than that?

BR Favorite thing you've discovered about the bar business while starting yours?
IS I can only speak to Boston but, my favorite thing I've discovered about the bar biz is just how tight the community is and, generally, how supportive people are.
TC I've met some of the best people of my life traveling around for the app this last year. The fact that the community I've been a part of in Boston extends all across the country just makes me feel better about humanity in general.

BR First drink of the night?
IS Last Word
TC Somehow I made it through sixteen years of barhopping without ever having a martini until a few weeks ago. I think I was put off by the number of unfortunately flavored beverages ending in "-tini" for a long time, but I've been on a bit of a martini kick since just after Thanksgiving. I'm really enjoying trying out different people's subtle tweaks to such a classic recipe.

BR Last call of the night?
IS Water
TC Lawnmower beer.