FeaturedArticles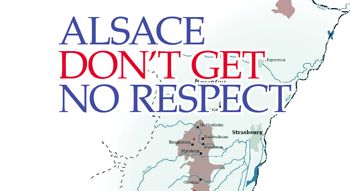 Article By: Harvey Finkel
The good wine folk of the region avoid the adjective Alsatian, preferring the awkward use of the noun, Alsace, as adjective, i.e., "Alsace wine" in fear of confusion with the British term for German shepherd. They should be reassured: their wines are not dogs.

---
I like to imagine that Rodney Dangerfield's house wine was Alsatian, for among the world's fine wines it is accorded the least respect – unjust, unfortunate, and in part self-inflicted. Fresh from an educational visit from representatives of fine wine producers of Alsace bearing many tasting samples, I would like to review the high points of the region and share my impressions.
The wines of Alsace are some of the most precise, gracefully aging, food enhancing of all. The vast majority are white and are entitled to an AOC designation. Described as made from German grapes by French methods, they seldom see oak or undergo malolactic fermentation. Almost all are made of one or another single variety. They maintain an unusually high general level of consistent quality. Alone of all French wines, they have been entitled to name themselves by their varietals, but confusion is likely now that administrative gnomes have decided to widely extend the privilege. We'll encounter several other cases of confusion.

Alsace, occupying the northeast corner of France, is another lesson that living in interesting places is usually punished. Warring armies have marched back and forth through the region beyond memory. Although resolutely French, it evinces an essential mixture of the Germanic. The region retains great charm and offers a rich cuisine. It presents well-preserved echoes of medieval times. Once producer of plonk, Alsace began to tentatively shift toward quality wine production only after the Great War. The movement really gained momentum midway through the last century. The Germanic names of the profusion of unfamiliar sites and the number of grape varieties continue to confuse consumers, although the varietal labels are essential to rational purchasing.

The best growing sites are found on the southern and southeastern slopes of the eastern foothills of the Vosges Mountains, at between 18O and 4OO meters of elevation. The mountains provide a rain barrier and a wind break against the Atlantic weather moving from the west. Days are sunny, nights cool, winters cold, rainfall sparse. Alsace is close to the driest part of France. Its soil profile presents a mosaic of 13 to 2O different types, each likely marking the vines, and thus the wines, it nurtures. The vines are trained high. Yields are high, but have been coming down.

Riesling leads in quality and in plantings (22%). It can age astonishingly long, and then linger on the palate after tasting equally astonishingly. Penetrating and complex, it may be the greatest of unsung wines. Pinot Gris (15% of plantings) is often of thick texture, spicy and powerful, ready to take on almost any challenge. Gewürztraminer (19%), the iconic, most characteristic wine of Alsace, aromatically evokes roses or litchi. It is rich and fruity, and may fill in with foods, especially Asian, that other wines misfit. Muscat d'Alsace (2%), the last of the "noble" four, is aromatic, grapy, smelling as likely sweet, but, surprisingly, properly fully dry. It is mainly Muscat Ottonel, often with some Muscat Blanc blended in.

Pinot Blanc (21%), or what passes for Pinot Blanc, is Alsace's second most planted variety. At its best, it can be a fruity, unaggressive wine with Alsatian character. But we have the auxerrois saga. Auxerrois, or, in full, auxerrois blanc de Laquenexy, is widely planted. It is frequently blended into wines labeled Pinot Blanc, to an unknown, even majority, proportion. Vines thought pinot blanc are turning out to be auxerrois, which is likely related to chardonnay, and possibly a member of the pinot family. Auxerrois in Alsace is sometimes called klevner or klevener or clevner or clevener. (There is a "real" klevner de Heiligenstein, grown locally near that village, that is actually a strain of savagnin rosé. Some pinot noir in Switzerland is also called klevner.) Auxerriois is an important component of Edelzwicker, Alsace's multivarietal blend. It can provide good body and fruit. Some illegal alien "chardonnay" in South Africa is really auxerrois.

In Alsace, auxerrois gris has been a synonym for pinot gris, and auxerrois blanc for chardonnay in the French Moselle. Valdiguié, a red grape of southwest France, was once called auxerrois. And auxerrois continues to be the local name of malbec in Cahors. "Pinot Blanc" in Alsace may contain some Pinot Gris and Pinot Noir, but how bad is that? Auxerrois means "of Auxerre", which is a town near Chablis. Had enough?

Sylvaner (8%) can give a light, tart wine. Pinot noir (1O%), last of the three certified pinots, is made into light red or rosé. A number of minor varieties, such as chasselas, are seldom bottled on their own.

After much internal debate, no doubt leavened by local politics and vested interests, just over 5O grand-cru vineyards have been designated. The selection is marred, however, by the charge that some are undeserving or overextended and by the refusal of some of the owners of the best vineyards to be included. Most of the grand-cru vineyard names are unfamiliar. Only Riesling, Pinot Gris, Gewürztraminer, and Muscat d'Alsace qualify, with one or two exceptions.

When I first made the acquaintance of Alsatian wines, nearly all but the late-harvest editions were bone dry. Some Gewürztraminer fittingly retained a modicum of residual sugar. Lately, however, although most wines are dry or nearly so, it ain't necessarily so. I well remember dining out with five others a few years ago, and being asked to order wine to accompany the fish. Unspoken was the reasonable expectation that it would be dry. I ordered a Pinot Gris made by an Alsatian house of repute, one that I thought could be relied upon for well-turned dry wines. We were surprised that the wine turned out to be distinctly sweet. I received five funny looks. The cause of the shift is unclear. I've asked winemakers, who often recite answers worthy of presidential candidates. Three reasons I've heard may make sense, likely in combination. Global warming, which has advanced harvest by as much as a month, has led to greater ripening, thus more sugar. Reduction of yields may also enhance concentration of sugars. The deliberate, though hardly admitted, choice of some of Alsace's hundreds of winemakers to pick later and even arrest fermentation before completion because of their own individual tastes or a mistaken perception of market demands, likely explains some of the trend. Demands that labels clearly indicate the wines' levels of sweetness so far have been met halfheartedly. It is recognized that the same residual sugar concentration will taste more or less sweet in inverse proportion to a wine's acidity, but that can be accounted for if the effort were to be made.

There are two divisions of late-harvest wines. Vendange Tardive (literally "late harvest") wines may be dry or moderately sweet, and may be touched by "noble rot". Their hallmark is intensity. Sélection des Grains Nobles (selected pickings of botrytis-affected grapes) are very sweet, the equivalent of German Beerenauslesen. Each category has prescribed minimum sugars at harvest. Like Grand Cru, they are limited to the four "noble" varieties. Realize that the grands crus and the late-harvest wines add up to a vanishingly small proportion of Alsace's wines.

Crémant d'Alsace, Champagne-method, good-quality sparkling wine, encompasses 22% of total production. Less sensitive than Champagne on average, their somewhat broader flavor profiles and spice tend to make them more suitable to accompany an array of foods. The grape varieties authorized to participate in these blends are pinot blanc (and, perforce, auxerrois), pinot gris, pinot noir, riesling, and chardonnay.

For the wine merchant, Alsatian wines can be difficult, requiring hand selling. For the consumer, these are reliably high-quality, finely focused, gracefully aging, distinctive wines of character, often less expensive than wines of like quality from elsewhere. I still reflect back with gratitude to the wine merchant who introduced me to these wines several decades ago. They are superb with a wide variety of food. Think of them when contemplating your choice.

Confirmation of my contentions came in the form of a complex, multicourse dinner escorted by ten flawless wines of Alsace, arranged by the region's US agency and executed by Tony Maws at his Craigie on Main in Cambridge. Mostly Rieslings, Pinots Gris and Gewürztraminers, the wines ranged from dry and crisp as a bread stick to luscious and concentrated enough to float an ocean liner, always complementing and complimenting perfectly dishes delicate and dishes dense with flavors and textures. Even the wines of less noble grapes, a Crémant af auxerrois and pinot blanc and a field blend of five varieties, played elegant duets with their assigned foods.