FeaturedArticles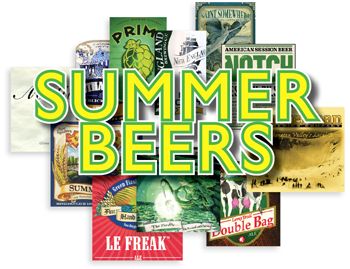 Article By: Andy Crouch
No season so attracts the attention of beer drinkers as much as the warm days and nights of summer. With the swells of heat and humidity comes a desire to cool off, whether through dips in the local pool or lake, or with a cold beverage. To take the edge off, consumers look to refreshing beverages with a bit of a bite – just enough to remain crisp but attention grabbing. While IPA and its absolutely astonishing growth over the last five years often dominate the headlines and sales figures, a few historic European counterparts can also pack the right seasonal punch.

---

ALTBIER Closely associated with its home of Dusseldorf, the alt style remains an enigmatic creature, promoting bitterness in a country where clean, malty beers often dominate. Occasionally brewed as a lager outside of its home city, traditional alt beers remain ales that are cold-conditioned at temperatures low enough to suppress big, fruity aromas in favor of milder, more concentrated malt and hop notes. The resulting beer is usually light amber to light ruby-brown in color, with an alt's aroma being defined by a potent but reserved discharge of earthy, spicy noble hops mixed with subtle touches of a light caramel sweetness. A seemingly difficult style to execute outside of Dusseldorf, American versions vary in their levels of interplay between bitterness and malt sweetness but great examples let the noble hop bitterness shine through in nose and palate, with a nod towards a dry and smooth malt underpinning.

DOUBLE BAG
Long Trail Brewing Company
Bridgewater Corners, Vermont
alcohol content 7.2% ABV
The stronger, fuller big brother to the brewery's flagship Long Trail Ale, this altbier pours a light amber orange hue with a favorable dollop of creamy head. The aroma doesn't overwhelm but instead contains some restrained nutty hints, a touch of European malt notes and a quick glimpse of earthy hops. Well-balanced from start to finish, Double Bag tends more towards the Sticke Alt style, which is a limited edition and stronger version of the traditional Dusseldorf Alt beer. Filled with caramel and toasted malt notes that lay the groundwork for a pleasant patchwork of earthy and grassy hop notes, mixed with occasional touches of vanilla, chocolate and even graham cracker.

ALTBIER
Southampton Brewing Company
Southampton, New York
alcohol content 5.3% ABV
This fan favorite from the popular Long Island based brewery may be the most widely available Altbier in America. Presenting with a deep chestnut hue with an off-whitish, well-laced and retained top, the aroma mixes dried fruit with a slight toffee malt character for an inviting result. The toffee elements translate into light caramel notes in the flavor mixed with a dry and herbal hop bitterness and additional apricot and dried fruit flavors.

HEADWALL ALT
Tuckerman Brewing Company
Conway, New Hampshire
alcohol content 4.7% ABV
A sometimes hard-to-find offering from Tuckerman, which is best known for its excellent Pale Ale, the Headwall Alt boasts a radiant chestnut color and a light earthy hop bite in the aroma. The brewers use dark Belgian specialty malts and domestic whole leaf hops to create their own take on the traditional brown ales of Dusseldorf. The smooth flavored ale is slightly peppery at times with a balance of tempered malt sweetness and sustained and solid hop bitterness through to the lingering finish.

---

GERMAN-STYLE PILSENER Hardly content to let their Bohemian neighbors to the east enjoy all the hoppy credit, Germans celebrate their own version of the pilsener style. In addition to the herbal Saaz hop, the Germans relied upon their own varieties, including Hallertauer and Tettnanger. Zesty and herbal in their distinct ways – called noble – a concept as difficult to explain as terroir in wine. The resulting beers are bright in color, from pale to deep golden, with deep, dense, thick heads. The clean and inviting aromas are spicy, grassy and herbal, and fuse with a modest pilsener malt balance to create a crisp, quenching beer. A bit coarser than the Czech version, especially in the south of the country, the German pilsener is a lager loving hophead's dream beverage.

PRIMA PILS
Victory Brewing Company
Downingtown, Pennsylvania
alcohol content 5.3% ABV
Lovers of sharp, piquant and hoppy German-style pilseners should consider moving to Pennsylvania to get closer to America's greatest source of these beers. If a move won't work, try the excellent Prima Pils from Victory. Pouring a shade fainter than golden and with a persistent and mousse-like white head, the aroma defines clean, with tidy layers of spicy and earthy noble hops and slightly sweet and bready malts. Where some craft beers smell great but disappoint a bit in the flavor, the Prima Pils delivers in every possible way, with huge, spicy bitter hop flavors and residual bitterness, all balanced by a healthy dose of malt.

ELM CITY LAGER
New England Brewing Company
Woodbridge, Connecticut
alcohol content 5.O% ABV
Another great canned beer option from New England Brewing Company, this spot-on German-style Pilsener helps show that good canned craft beer is far from an oxymoron. A dullish golden hue with a prodigious and frothy foam cap, the aroma cracks with a crisp, clean and powerfully earthy and zesty noble hop presence with a mildly sweet malt base. This lager, brewed in the heart of New England ale country, is softer on the palate than some of the other more aggressive or Americanized versions of the classic style, effectively showcasing noble hops and bright European malts for a highly drinkable and clean experience.

CZECH-STYLE PILSENER
When people think of hoppy beers, their minds generally drift towards assertive India Pale Ales. Too often overlooked are the classic Pilsener styles, which offer some of the most sharp and zesty hop zings available. The grand daddy of all hoppy beers, the Czech or Bohemian-style Pilsener laid the bright, brilliant groundwork for all Pilsener beers to come, including the highly stripped down American descendents. Defined by the decidedly and lightly fruity Saaz hop, Czech pilseners vary from pale straw to deep golden in color with impressive rocky white heads. Aromas of light hay and spicy noble hops are met with the soft, grassy aromas of Moravian malt. The flavor is simultaneously a touch malty sweet and vastly bitter, but in an intriguingly unusual way for many new to the style. Bracingly fresh and eminently drinkable, the Czech style is an excellent beer for hop neophytes and devotees alike to savor.

SUMMERFEST
Sierra Nevada Brewing Company
Chico, California
alcohol content 5.O% ABV
Another of Sierra Nevada's less appreciated offerings, the hard-to-classify Summerfest skirts around the edges of the famed Czech style. A hazy marigold color with a polished ivory head, toasted grain at first pervades the aroma before a barrage of zesty, spicy noble hops reveal their presence. The flavor is a touch light for the style, which increases the overall drinkability of this seasonal offering, and gives the European malt base room to shine before handing the reins over to the earthy and piquant noble hop bitterness. A mild fruitiness lurks deep beneath the surface in an effort to add yet another layer of complexity.

SESSION PILS
Notch Brewing Company
Ipswich, Massachusetts
alcohol content 4.O% ABV
Offered by Notch, a company dedicated to supplying local drinkers with lower alcohol alternatives, so-called 'session' beers, the Session Pils is always a nice find on tap. Brewed to honor the unfiltered pale lagers of the Czech Republic, the Pils starts with a nose of slight herbal hops and a biscuity or light toasted malt underpinning. The flavor follows suit, with wisps of clean, zesty hops framed by a modest, almost grainy malt base. Finishing dry on the palate, this soft and accessible beer heralds a new era of American drinking.

---

BELGIAN-STYLE PALE ALE
A bit of a late entrant to the global brewing scene in terms of consumer consciousness and a style that certainly remains underrepresented in the American marketplace, Belgian pale ales are curious inventions, often difficult to define, but which preferably balance dry and biscuity malt notes with lightly spicy hop touches. A more widely available style in its home country, American brewers are slowly beginning to embrace Belgian pale ales, which are light golden to bright amber in hue and possess a sizable and sustained white to off-tan head. The style's aroma suggests its origins, with classic noble European hops mixing with an unusually phenolic but not fruity sweet yeast note. American brewers sometimes tend to branch out on their own with the addition of citrusy hops from the United States. Hoppier versions come closer to the India Pale Ale style and the most popular Belgian versions are heavily influenced by the American craft brewing renaissance. Due to the burgeoning nature of this particular style in America, our version here encompasses a wider range of beers, with divergent alcohol levels, that often seem to have little in common but an undeniable Belgian heart. While Belgian-style pale ales can be a little all over the map, they offer a nice complement to the sharper, zestier beers that usually dominate summer craft beer occasions.

MATILDA
Goose Island Brewing Company
Chicago, Illinois
alcohol content 7.O% ABV
Brewed as an homage to the classic Belgian Trappist Ale called Orval, this delightfully simple yet complicated ale starts with a dullish orange-amber color and finishes with a tacky foam crown that provides substantial lacing. As with its idol, the aroma is decidedly Belgian in character, with a blend of spicy and even fruity phenolics, a touch of funk, a hint of sweet candi sugar, all resulting in an impression of a tightly constructed and likely dry beer. Mimicking the aroma, Matilda glides over the tongue with cool pale malt and a touch of sweetness – that isn't quite willing to be dry – and occasional earthy and spicy hop elements. Matilda remains an excellent and daring twist on a style-defining classic.

LUCIERNEGA
Jolly Pumpkin Artisan Ales
Dexter, Michigan
alcohol content 6.5% ABV
Swirling in a dusty haze of orange luminescence with a marble hued and tacky fop of foam, the beer known as 'the Firefly' beams with a garden full of spices, from coriander, lemon, a touch of black pepper, and some barnyard funk. Bearing a peach and dull apple fruit essence, the grainy spice character demonstrates an unusual level of complexity, mixed with touches of alcohol, leading to a velvety character and a dry finish. There is a reserved hint of earthy hoppiness that underlies the beer without becoming more than a contributing player, allowing the Belgian-influenced flavor profile to shine.

LE FREAK
Green Flash Brewing Company
Vista, California
alcohol content 9.2% ABV
Le Freak's dull but luminous burnished golden orange color and loose white pedestal of foam and nice lacing give way to a mildly candy sweet pale malt aroma, mixed with a spicy pepper and grain quality, and fruity American hops. Certainly on the boozier end of the Belgian spectrum, Le Freak blends two genres, with substantial Belgian influences sprinkled over a strong IPA base. The resulting flavor tends towards Belgian-style Tripel sweetness, balanced by orange and grapefruit esters, zippy, grassy hop flavor and spicy pepper bitterness. Le Freak is an intriguing culture clash that results in a potent yet drinkable offering.

LECTIO DIVINA
Saint Somewhere Brewing Company
Tarpon Springs, Florida
alcohol content 8.O% ABV
It's a testament to the expansive growth of the craft beer movement that a small brewery in the macro-laden gulf coast of Florida could open and specialize in high quality, Belgian-influenced beers. Lectio Divina pours with a hazy reddish orange color and a sizable crater of an alabaster head. The aroma catches your attention immediately, with mildly tart and sour darts jabbing out from dry, toasted malt sweetness, with an underlying funk and horse blanket character. The resulting experience combines the woodier elements with a Belgian-style flavor profile, with considerable spiciness from the yeast and hops, leading to a dry and moderately bitter finish. Lectio Divina is definitely on the more eclectic side of the Belgian Pale Ale ledger but is certainly worth a try if you're game.