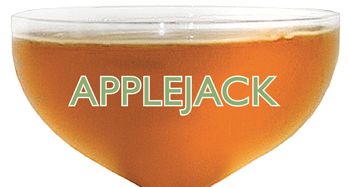 Article By: Pink Lady
Could there be a more wholesome fall activity here in New England than apple-picking (full flask notwithstanding)? It's as American as apple brandy – or applejack, the American version.

Applejack is America's oldest distilled spirit, an apple brandy that first became popular during Colonial times. Laird's & Company were the first commercial producers. William Laird was a Scotch-maker before crossing the pond in 1698 to settle in Monmouth County, New Jersey. Apples were abundantly available in the region so he used them to keep making hooch. His descendants opened the nation's first distillery in 178O.

In the 176Os Robert Laird served under General George Washington in the Revolutionary Army, which he kept supplied with the "cyder spirits". General Washington even borrowed the Laird's family recipe to try his own hand at the distilling.

Aside from the "apple" part, Laird's Applejack has little in common with other "apple products" in the marketplace, such as apple schnapps and Pucker, and drinks like whiskey with an apple-y finish. Modern Laird's Applejack is also considerably different from the Colonial stuff, and blends real apple brandy with neutral grain spirit to smooth and reduce the alcohol content for our delicate modern palates.

Applejack also happens to be helmed by a very cool LUPEC-loving lady, Lisa Laird Dunn. She's the 9th generation Laird to head up the company. We'll drink to that!

---
JERSEY LIGHTNING
¾ ounce of fresh lime juice
1½ ounces of Applejack
½ ounce of sweet vermouth

shake in iced cocktail shaker
strain into a chilled cocktail glass.

Take that, Sour Apple-tini!

Cin-Cin!