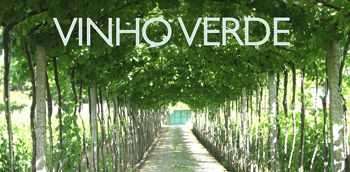 Article By: Sandy Block, MW
Portugal is the world's tenth largest wine producer but, outside of Port, its wines remain somewhat of a mystery in the US. About fifteen years ago I devoted considerable effort to importing and marketing Portuguese wines here because of the challenge of representing a country with a rich heritage and distinctive regions and varietals that were virtually unknown outside of their homeland. I always felt that one of the categories showing the most potential for growth in the market is the predominantly white wine produced in Portugal's northwestern corner – Vinho Verde. Recent sales trends have borne out our receptivity in the US (we are the largest customers outside Portugal, with enormous growth of over 4O% during the past few years) to this quintessential light bodied seafood wine.

Being a coastal country, Portugal has among the highest per capita consumption of seafood in Europe; Vinho Verde is what the locals drink with it. Totally unique in style, it is a wine of bracing acidity, low alcohol, often slightly petillant, and generally unoaked. Somewhat confusingly, it is both the official name of the demarcated region (which the Portuguese call Entre Douro e Minho, after the two east-west rivers that form its borders) as well as the wine. First classified in 19O8, Vinho Verde is the largest of Portugal's 16 demarcated wine regions, stretching from the Spanish border to south of Oporto on the Atlantic Coast. From a topographic perspective, the region is a vast amphitheater rising from the coast eastwards towards a mountain range which separates it from Tras os Montes; several rivers coming out of these hills empty into the Atlantic, including the Minho, Lima, Cavado, Ave, and Douro. Wine has been produced in these remote hills for over 2OOO years since the Romans brought vines to the region they first visited in 138 BC. Over the centuries mountain barriers have isolated the local inhabitants, the Minhotos, from outside cultural influences and the land is still very green and agricultural, with approximately 25% of the region's population engaged in grape growing as well as raising other crops.

Vinho Verde's soil and climate create a special terroir responsible for its dramatically distinctive wines. Bordering the Atlantic, the region experiences heavy winter and spring rains, after which weather is usually bone dry until late summer. Rains start again prior to autumn, necessitating relatively early harvesting. It's not uncommon, therefore, to encounter Vinho Verdes that are under 1O% alcohol. The legal minimum is actually only 8%. Because of the humid conditions, vines have traditionally been trained very high, growing up pergolas (with another crop underneath) climbing up trees or encircling poles, all of which encourage air flow and large yields. These systems require quite a bit of management as well, so the modern trend is for lower plantings that are trained on wire trellises. The granitic soils help soften a high acid impression characteristic of the grapes here. This is the exact opposite situation compared to the Douro, just south, where granite is shunned in favor of slate and schist, both of which advance ripeness and help impart structure.

---
Regarding land ownership
and production, this is a region of predominantly small family farms, with average holdings of less than 3 acres; registered vineyards cover over 15O,OOO acres though, so grape growing is widespread. Despite this there are only about 6OO bottlers of Vinho Verde, so the negociant and cooperative systems remain very strong here, as they are in other parts of southern Europe. The region is divided into several sub-regions, going from north to south: Moncao/Melgaco This hilly, verdant zone was the first area to export Vinho Verde to the rest of Portugal, back in the 16th century, and it is the only region authorized to plant Alvarinho (known as Albarino across the Spanish border in Galicia) because of its clayish sandy soils that are ideal for growing this superb varietal. Lima An area dominated by co-ops where the Loureiro grape predominates; in Lima the trellises are closer to the ground than is found elsewhere in the region, where high plantings remain the norm, and vineyards here are found along the banks of river. Cavado The largest sub-region, a relatively flat zone where there is also a strong presence of Loureiro, and a large number of individual estate bottlers. Ave This is a subzone that is quite windy and damp, with a strong maritime influence. Basto The zone furthest east, with the steepest hills, where trellises tend to be very high (in some cases 2O feet) and where, because it is warmer, red grapes predominate. Sousa This zone is the most urbanize and closest to the city of Porto. Amarante South of Basto, this inland zone also features high trellises, and grows the region's best quality reds. note Very little red Vinho Verde makes it out of Portugal even though red grapes still constitute over 2O% of the vineyard mix; this has been declining since the early 199Os, when red grapes actually outnumbered whites. Paiva Another red wine region. Baiao A white wine region with a wide mix of the local grape varieties.
The rules for production are somewhat complicated. One of the trends has been to label Vinho Verde with the name of specific sub-zones and specific grape varieties (these are called "mono castas"), of which 52 are allowed. At least 75% of the grapes must be from the six recommended varieties: Alvarinho, Loureiro, Avesso, Azal, Pederna, and Trajadura. While alcohol levels for Vinho Verde without one of these designations ranges from 8 to 11.5%, naming a sub-region requires at least 9% alcohol, and if the grape Alvarinho is named, the alcohol must be between 11.5 and 14%. Acidity levels are substantially higher than any other Portuguese wine, and all Vinho Verde must pass two tasting and laboratory analyses by the regional authorities (CVRW).
---
I RECENTLY TASTED THESE VINHO VERDES.
THEY REPRESENT A GREAT CROSS SECTION OF THE REGION'S STYLES AND WHAT THE BEST WINE MAKERS ARE CAPABLE OF PRODUCING.
BROADBENT NV
This is a non-vintage blend that is fresh, crisp and only 9.O% alcohol. It is fermented very cool, in temperature controlled stainless steel, like most of the region's wines. Also like most Vinho Verde, malolactic fermentation is suppressed and CO2 injected at bottling to give the wine its characteristic spritz and retain natural fresh fruit aromas. It is a blend of Loureiro (a low extract florally scented variety which enjoys slightly humid conditions and therefore thrives in proximity to the ocean, producing lighter, slightly spicy wine) and Trajadura (which is softer and rounder, with an almost bitter suggestion of pepperiness), and just a small mixture of Pederna (which is grown further south, as Arinto, and has a slight vegetal citrus edge). All Vinho Verde has at least a trace of sugar, and this very pale, silvery wine's is so minimal that it comes across as very palate cleansing and lime-like.
ARCA NOVA 2O11
This is made at Quinta das Arcas, a small family owned and operated estate, and is a bit fuller on the palate, with juicy apple and lemon scents and a refreshingly lively spritz. Vines on the estate are trellised so that grape clusters grow about 6 feet above ground, allowing for great air flow to dehumidify the grapes. Made with the same mix of varieties as the Broadbent, this gives the impression of a bit more ripeness and even a subliminal hint of sweetness. Outstanding with ceviche or grilled shrimp.
QUINTA de AZEVEDO 2O11
When the name Quinta appears on a Portuguese wine label, it means that the wine is estate bottled. Quinta bottlings represent less than 5% of the region's production. This one is outstanding, bone dry, with bracing Granny Smith apple flavors. Azevedo dates to the 12th century and is currently owned by Sogrape, Portugal's largest wine company. With 95 acres of vines, the predominant variety is Loureiro (7O%) which imparts some of the delicate aromatics. Produced from low yielding grapes that are given some skin contact to magnify the flavors and then pressed rather than crushed to keep the wine fresh and delicate, it is a remarkable value. Its yeasty, bright flavors make it a wonderful match for smoked fish.
QUINTA de AVELEDA 2O11
This is a single Quinta bottling of the region's largest producer, an estate property owned by the Guedes family who founded the winery in 1671. With 4OO acres of vines Aveleda is now run by the 8th generation. They make the region's biggest brand (the non-vintage Casal Garcia) but this is a totally different wine, much more delicate and refined, with fresh melon and apple notes, a succulent ripe fruit flavor and lingering acids that leave the palate refreshed and calling out for some raw shellfish. The property, which I visited several years ago, is also magnificent.
VERA ROSÉ 2O11
This negociant wine is produced by Americans Rui Abecassis and Bruce Schneider from the Casa do Valle estate. It is technically a Rosé, but looks dark enough to be a red. Very interesting wine, it is made with 6O% Vinhao (a red-fleshed "teinturier" grape known elsewhere in Portugal as Sousao), and 4O% Rabo-de-Ahno. Grown at 8OO to 12OO foot elevations on granite sandy loam soils, the vines here average 3O to 5O years-old and you can taste the vinosity. Gently pressed and fermented cool, like a white wine, this Rosé has a bright very tart red raspberry, tomato-like character, with hints of green herbs and rhubarb, but no discernible tannins. The strong spritz makes it a unique treat for anyone who has not been exposed to a wine of this kind before; serve it lightly chilled with a whole variety of dishes, including Cioppino, fish in a tapenade, or roasted chicken rubbed with herbs.
QUINTA de GOMARIZ "LOUREIRO" 2O11
This single varietal wine is labeled as a Colheita Seleccionada which is an unofficial designation like a reserve wine. The quinta is a 4O acre parcel located in Vale do Ave on granite soils. Production here is minuscule. It's vegetally scented, with apple, honey and somewhat pearlike flavors. Full in body and quite smooth for a Vinho Verde (although only 11.5%), it's a good match for the hint of sweetness you'd pick up from new scallops.
VARANDA do CONDE "ALVARINHO/TRAJADURA" 2O1O
This wine is produced in the extreme north of the region, in Moncao, and is made by a small cooperative composed of ten growers. Here it's possible to see the greatness of the Alvarinho grape, which has been far better known for its plantings on the other side of the Minho, in Rias Baixas Spain. Alvarinho thrives here in Moncao because it gets a bit riper than it would elsewhere in the region, encouraging the development of floral, honeysuckle aromas; the grape thrives in shallow, sandy well drained soils. The wine is clean and richer in texture, with creamy orange-scented fruit but also a vibrant green herb and mineral accent. It's outstanding with mussels.
PORTAL do FIDALGO "ALVARINHO" 2O1O
Produced by the same cooperative as the Varanda do Conde, this pure Alvarinho is richer; fermented slightly warmer, it is more extracted and tastes even riper. Dry and mellow, with a heady bouquet of orange blossom and Golden Delicious apples, the wine is fuller on the palate, with strong lees influence, assertive acids and a lingering mineral finish. Quite fresh, despite the fact that it is a 2O1O, this one is a good match for a grilled Salmon in a honey mustard sauce.
SOALHEIRO "ALVARINHO" 2O11
This was the finest Vinho Verde I've tasted in quite some time, a lush, mouth filling wine that is produced at a Melgaco based estate of 15 acres, but is based on estate and purchased fruit. The Cerdeira brothers were the first in Vinho Verde to plant Alvarinho in 1974, so the wine shows some of the maturity that you'd expect from older vines. The estate is noted for its very low yields and for whole-bunch pressing of the grapes, which extracts less but more richly concentrated juice. Unusually it also is fermented with natural yeasts. Redolent of spring flowers, with tangerine and some tropical scents, this Vinho Verde has a silky dried fruit character that is very appealing. It's a Vinho Verde for lobster and crab.