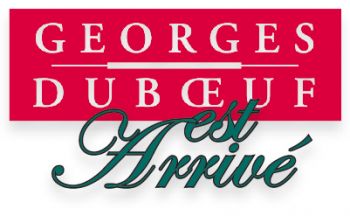 Article By: Harvey Finkel
Georges Duboeuf, "le roi du Beaujolais", paid a visit bearing samples of his latest array of wines, the esteemed 2O11 vintage, and to celebrate with William Deutsch the 3O years that Deutsch Family Wine & Spirits has been Duboeuf's US importer.

Duboeuf has carved a remarkable career. Born in 1933 to a family of Pouilly-Fuissé small vignerons, his name has become synonymous with Beaujolais. Les Vins Georges Duboeuf, now run by Georges and his son Franck, boasts an annual production of 3O million bottles, many of them the iconic Beaujolais, 2O percent of which are exported to the US, the rest to 119 other countries. To me, most astonishing is their ability to oversee the production and marketing of 4OO different Beaujolais. Even in this age of the computer, how do they keep them straight? A Duboeuf wine can be confidently expected to be competently made, attractively packaged and fairly priced, but one wouldn't expect individualistic high points or idiosyncrasies.

Let's take a bird's-eye view of the Beaujolais region, located just south of Burgundy's, from north to south – Côte d'Or, Côte Chalonnaise and Mâconnais. This hilly region produces a lot of wine, and is almost the last refuge of gamay, banished from Burgundy proper in 1395. Its seriously hilly northern half produces the ten Beaujolais Crus and Beaujolais-Villages from eastern and southern slopes of sandy soil over granite. The vines live long. The wines often age gracefully, even sometimes resembling Côte d'Or pinot noir after a time. Plain Beaujolais and Beaujolais Nouveau come from the clay soil of the less elevated southern half of the region. It is in this portion of Beaujolais that growers have been facing dismal economic trouble.

In addition to soil and grape characteristics, the fermentation technique in Beaujolais is distinct. Whole-bunch carbonic maceration emphasizes fruitiness, but mutes tannins and malic acid. The result is a fragrant, light, fruity, gulpable wine with verve. This can be carried too far, as in many Beaujolais Nouveaux. Barely transformed from grape juice into wine, it is destined to be drunk within a few weeks of harvest, and will enter the winter of its short, happy life that same winter. Once even more popular, Nouveau still makes up one-third of total production. It has become, in the market, a two-edged sword. The hue and cry that attends its annual release in November certainly calls attention to Beaujolais, but the oft-deserved disdain in which Nouveau is held by serious wine drinkers may damage the image of all Beaujolais. The broad Beaujolais market in the US is relatively stabile, neither declining nor growing much. It seems to me, though, that less attention is being paid to Beaujolais than was the case ten or thirty years ago. Consumers have wider interests now.

It is helpful that the quality of the 2O11 vintage is so high, the third excellent one in a row. Global warming provided for an early harvest, as it does everywhere. Picking began in Beaujolais on August 2O, and was completed on September 6. The wines need and will benefit from some time in bottle.

After three pleasant chardonnays -– a Mâcon-Villages and two Pouilly-Fuissés -– I tasted four Beaujolais with Duboeuf, a Beaujolais-Villages ($1O) and three crus ($14 to $19). The Villages and one of the crus were Duboeuf flower-bottle cuvées; the other two crus were from individual domains. The four are young, well knit, firm, and somewhat similar to one another. Black raspberry is a common theme. All are promising.