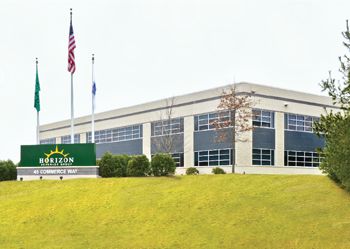 Article By: Brandy Rand




If you've ever worked with the Horizon Beverage Group, you've likely heard President Robert Epstein talk about his company's mantra of "providing luxury goods with Tiffany service". With a sparkling new facility in Norton, the company has polished its delivery and reporting systems with impressive results – 99.96% efficiency to be exact.
---
Housed in a former General Motors distribution plant, the expansion was a labor of love for the Epstein and Rubenstein families, 4th generation owners of Horizon Beverage. They spent over a year remodeling the building, doubling its size and installing state-of-the-art technology. The end result is a modern, efficient beverage distribution facility with the largest climate controlled wine storage space in New England. Chief Operating Officer Michael Epstein helped oversee the project, something he says was a long time coming. "We had no real way of gauging our effectiveness before; it's a lot easier to improve when you can accurately measure performance and make changes."
Imagine thousands of beer, wine, spirits, and non-alcohol products all under one roof, being manually sorted, packed and delivered to over a thousand restaurants and retailers every day. They went from a static inventory system where specific SKUs occupied a fixed location in the warehouse to a dynamic model organized by computer based on velocity rates. The change was necessary, in part, due to space constraints caused by the SKU proliferation which has grown exponentially over the years, says Sam Rubenstein, Managing Director of Regional Sales. A major overhaul was needed to allow Horizon Beverage to expand their footprint and stay competitive.
Vice President of Technology Lewis Pollock was a member of the team that spent months traveling from state-to-state looking at other distributor systems. From software to conveyer systems, Pollock says it was important to get feedback,
especially given that Horizon has the unique distinction of selling a relatively even mix of wine, beer and spirits – in 2O12, the breakdown of cases shipped was 35% beer, 35% spirits, 29% wine, and 1% non-alcohol. Determining the best method for managing this was partner W&H Systems, the integrator that helped design and build the system based on their specifications and desired level of performance.
From 8pm to 6am Monday through Thursday, the Horizon Beverage warehouse is buzzing with activity. The facility can process upwards of 8O,OOO cases nightly. It starts with a print out of stickers containing orders that pickers use to locate the boxes in the warehouse. Each sticker contains information regarding the item, the correct loading door and the account receiving the case. Once a picker pulls a case, it goes on a conveyor belt and is sorted to go on one of eight trucks. Called a "batch sortation system", it replaced an inefficient "pick by stop system" which permitted the loading of only two trucks at a time.
The new systems were a big cultural change as well. The company invested a lot of time training employees on the new technology to ensure a seamless adoption rate. For two months, they ran mock order processing with plastic bottles of water to ease employees in to the system before going live on May 14, 2O12. Michael Epstein says it paid off with a higher level of performance and acceptance. "The system is only as good as the people running it," he acknowledged.
One of the biggest changes, says Rubenstein, was in the bottle room – going from paper picking (employees looking at paper orders to pick bottles) to voice automated picking (employees now wear headphones that read the order to them as they move down the line). The former system had a high error rate, and now "on some nights we'll pick 1O,OOO loose bottles without missing a single one." Though it was tough for long-time employees to get used to the headset method, everyone is happier with the outcome. Epstein explains: "Before, it was simply about getting it done. Now it's about how accurately we can get it done. Mistakes that aren't made are mistakes that we don't have to fix."
In addition to the warehouse transformation, the office space was designed to allow for what Rubenstein calls "human ergonomics" – the most effective flow of bodies as possible without wasting time going from place-to-place. "The more organized and efficient everyone is, the more effective we are as a company." This translated to a large first floor concourse with multiple sales meeting rooms for supplier partners, complete with a preparation area for tastings. Employees now have more dedicated space for breaks, with separate lockers and shower rooms for drivers located right off the warehouse.
Horizon Beverage is undoubtedly proud of their new facility, but efficiencies aside, the crowning achievement has been the happy customers. Says Epstein: "First and foremost, we're a customer service company. This new system enables us to deliver on that mission, and the positive effects have permeated all other aspects of the business. We've raised our game across the board." Keeping with the Tiffany analogy, Horizon Beverage can say it is no longer a diamond in the rough, but a shining example of how technology and teamwork can make all the difference.
---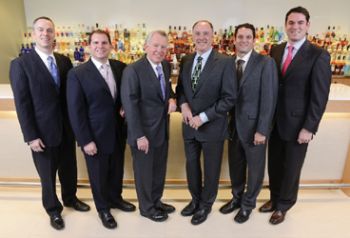 MICHAEL EPSTEIN
COO/EXECUTIVE VICE PRESIDENT
DOUG EPSTEIN
PRINCIPAL/MANAGING DIRECTOR, REGIONAL SALES
ROBERT EPSTEIN
CEO/PRESIDENT
JIM RUBENSTEIN
CEO/TREASURER
BEN RUBENSTEIN
PRINCIPAL/MANAGING DIRECTOR, WINE SALES
SAM RUBENSTEIN
PRINCIPAL/MANAGING DIRECTOR, REGIONAL SALES
---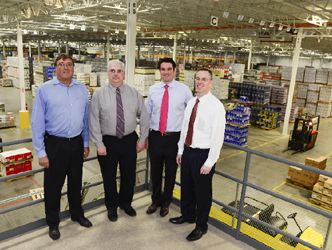 OVERLOOKING the WAREHOUSE
STEPHEN ARRIGHI
OPERATIONS MANAGER

LEWIS POLLOCK
VP-TECHNOLOGY

SAM RUBENSTEIN

MICHAEL EPSTEIN
---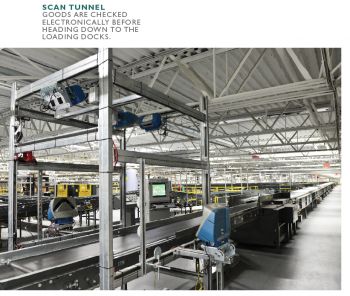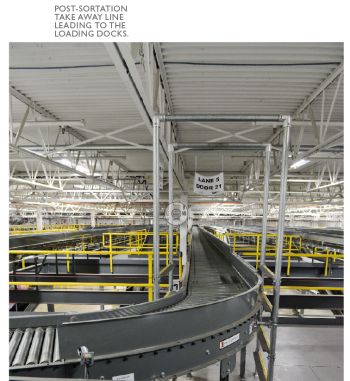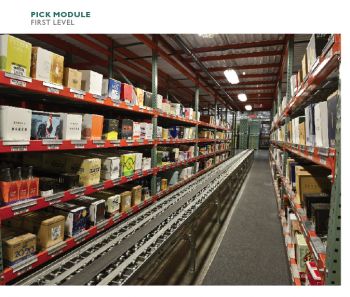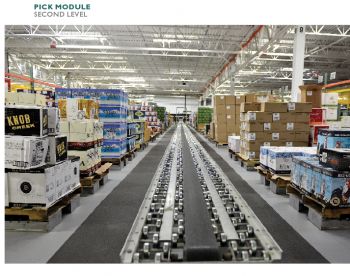 ---