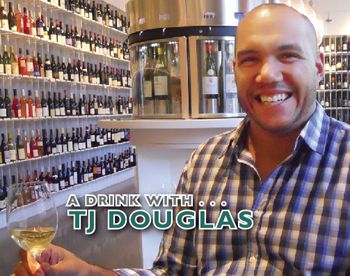 Article By: Brandy Rand
TJ DOUGLAS, along with his wife Hadley, has changed the way people shop for wine. Their two Urban Grape locations (Chestnut Hill and Boston's South End) could be mistaken for retail boutiques, not liquor stores. Sleek, stylish and sophisticated, the Urban Grape is among a new wave of small stores that elevate the shopping experience that goes beyond knowledgeable staff. With a focus on taking the intimidation out of shopping for wine and spirits, customers are able to sample from tasting machines, or attend one of the many in-store events. The Urban Grape is truly a reflection of the Douglas' passion, not only for a kickass glass of wine, but for people. TJ talks about his successful approach to the modern retail store.

---
BRANDY RAND Why did you decide to open the Urban Grape and what makes your store different?
TJ DOUGLAS I worked in the restaurant industry from the time I was 13, and I always loved providing excellent customer service. When I made the switch and started working for Ruby Wines, I was surprised how a lot of the retails stores I sold to focused just on the wine. I wanted to bring the combination of both to Boston, and that's exactly what we've done. The Urban Grape is a hospitality-based liquor store. Additionally, we're the first store to utilize what we call "Progressive Shelving". This is a user-friendly, easy-to-shop way of organizing the wines that is based on the body of the wine, as opposed to the varietal or region. It's about finding the perfect bottle for our customers, while easing them into new wine experiences that expand their palates.
BR You've had a long career in the hospitality business - what have you learned along the way?
TD First and foremost, hospitality is king. I always tell our staff – if you don't know the answer to something, don't fake it. Be honest, be welcoming, be approachable, and giveexceptional customer service. If you need to find out an answer for them, they won't mind as long as they feel they are being taken care of. Along those lines, come to work every day being ready to impress. We tell our staff to take a breath before they walk in the door. As soon as you walk in, your focus needs to be on providing customers with an unforgettable experience. Lastly, and most importantly, always go with your gut. When you do that, you can read people and learn everything you need to know about what they want out of their shopping experience in the first ten seconds.

BR Where did your love of wine come from?
TD I was the opening bar manager for the first Rustic Kitchen in Faneuil Hall. Rustic was one of the first restaurant bars to debut wine on tap. I was constantly tasting wine and making recommendations, and I fell fast for the juice! Soon after that, I found myself in Italy twice within 18 months. The first was a family trip to Tuscany and the second was a distributor trip. Those two experiences really solidified my desire to make the switch into the wine world.

BR What's the most memorable wine experience you've had thus far?
TD I will never forget meeting Cat Silirie at an in-home wine tasting party, over a decade ago now. She poured a 1999 Sandrone Barbera and as she was talking about the wine, it was the first time I really "got" it. With Cat's help, I was able to track down a case, and it was my first real wine purchase of bottles to lay down. I can still remember how it tasted, and the epiphany I had while drinking it. In that moment, Cat helped to shape so much of what has followed for me.
BR You recently opened a second location in the South End. Tell me why you chose that area and how the response has been from the neighborhood:
TD My wife Hadley and I have lived in the South End for almost ten years now. We've been walking by that empty store-front for five years and wondering why no one opened a shop of some kind there. Very randomly, we ended up inside the space only 13 months after we opened the Urban Grape in Chestnut Hill. We started wondering – a little nervously – why WE weren't opening a shop in that space! It took about 15 months to make it happen, but we're ecstatic to be within Boston proper for our second store. The response from the neighborhood has been fantastic. We're a very social wine store – we have a lot of tastings and events around our giant 14-foot tasting table – and people have really enjoyed making a daily stop at UGSE part of their routine. There's a lot of community being built in that store, which is one of our number one priorities. As South Enders ourselves, we've loved being a hub in our neighborhood.

BR How have you seen the wine business change over the years? What do your customers want these days?
TD Consumers are more educated. They are moving away from the huge brands with big marketing budgets and focusing more on smaller producers and importers with amazing wine and a great story. They want to know that their wine was grown with care and thoughtfulness. And with so many great importers and distributors in Massachusetts, we can find these great quality wines at fantastic prices. Also, customers want honest, educated and enthusiastic sales people. They don't want to be "sold to", they want to have a conversation. They don't want to buy on ratings. They want to hear – "I had this with dinner last night and loved it". They also want to try a wide variety of new things, and to taste before they buy. People love that they can sample from our wine tasting machine before buying. It means a lot to them.

BR What's the biggest misconception people have about wine when they enter your store?
TD That it's expensive. More specifically, that wine is expensive in general, and that the wine we sell must be doubly expensive. My wife likes to say to people: "Wine is grown on the most gorgeous places on earth. Why do we buy it in the ugliest stores?" The build-out of our stores is intentionally design-heavy. We want shopping at UG to be an experience. But over half of our stores' shelves are stocked with wines that are in the $15 price range. It's an experience, but only an expensive one if you choose it to be. People who buy an $8 bottle of wine should have the same customer service experience and setting as people who buy an $8OO bottle.

BR How has social media affected the wine business? Do you find it a good tool?
TD Social media has been a huge tool for our business. Twitter, Facebook, the Urban Grape blog – these are all tools that help us to interact with our customers outside of the four walls of our store. When a highly allocated wine, beer or spirit comes into the store, we can let people know immediately. It's like a 24-hour sales source, but it takes a lot of work and a lot of management.

BR You have a unique shelf design – why did you decide to organize your store that way?
TD My decision to use Progressive Shelving to organize the stores came from my time in the restaurant industry. When I was writing restaurant wine lists, I wrote them in Progressive Format – from lightest to heaviest – as it was easier for my staff to make a wine pairing suggestion without waiting for me to advise the table. When it was time to decide how to shelve the wine at UG, I made the decision to try a progressive system, even though it had never been done before. I trusted my gut – and it's been the best decision I've made for the success of our business.

BR What are your predictions for the hottest grapes or winemakers for 2O13?
TD Cabernet Franc – These are great wines with excellent value. They are palate and food friendly and accessible for a lot of different people. If you've never tried a Cabernet Franc, this is your year!
Nebbiolo – We've always loved Nebbiolo (it's my favorite grape), but now the whole world seems to be catching on. It has nice, bright acidity, which makes it a fantastic food wine. It's super-palate friendly and comes in a variety of price points. And, I like to pretend I'm Italian, so I have to choose a grape from the Motherland.
Chenin Blanc – This is a very versatile grape that, depending on how it's made and manipulated, can satisfy a variety of palates. Lighter styles are popular with Sauvignon Blanc drinkers, heavier styles are popular with Chardonnay lovers. And it's made all over the world, so you can explore geographically too.

BR Bottle of wine you'd have to have your last day on Earth?
TD 199O Krug Clos du Mesnil. This is a single vineyard Blanc de Blanc, and one of the greatest Champagnes on earth. I'd like to go out in style, raising a glass to my loving and supportive family and the great ride we've had with the Urban Grape.

BR Most unusual food and drink pairing you've ever had and why?
TD It actually was not wine, but rather a fresh-shucked, naked Island Creek Oyster and a shot of the Los Amantes Mezcal Joven. It was like shooting a dirty olive martini. I knew it was going to be good when I paired it, but I was blown away by how the pairing changed the characteristics of both the oyster and the mezcal.

BR Favorite word to describe a wine?
TD Rocking. If you're shopping with me and I pull out "rocking", you're probably going to want to head home with that bottle.