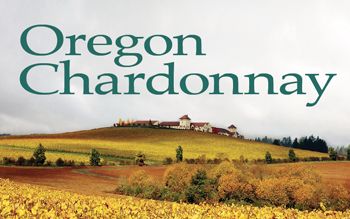 Article By: Sandy Block, MW
0regon's wine reputation rests squarely on the high quality of Willamette Valley Pinot Noir. The state's Pinot Gris has also hit the radar screen of many wine lovers. Yet, even after a few decades of consistently outstanding production, 0regon Chardonnay remains an untold story outside of its region.

Invisible though they may be, the top Chardonnays are classically structured, supple and elegant. At less than 150,000 cases annually, however, production is miniscule,while robust local demand means that less than a third of the total ever makes its way out of the Pacific Northwest. To Chardonnay detractors, or those averse to over-extracted, tropically scented wines with high levels of oak or excessive alcohol, tasting the wines blind, as I do every year, constitutes something of a revelation. The palate profile is closer to Burgundy than California.

For those with a long memory, disinterest in the category probably stems from early encounters with 0regon Chardonnays that tasted severely under ripe and vegetal. This certainly summarizes my experience until the late-1990s, a point at which I had all but given up on the grape as unsuited to the state's cool climate. Most of the wines struck me as quirky to a fault, consistently green, neutral, thin, and acidic. As it turns out, this dismal performance reflected more the planting of Chardonnay clones that had been propagated from warmer climate zones rather than anything intrinsic. Chardonnay acreage, over 20% of 0regon's total in the 1990s, declined precipitously as the vines kept being budded to other more successfully adapted grape varieties.

Today only 6% of the 0regon's acreage is still Chardonnay but the so called Dijon clones from Burgundy that were planted almost exclusively over the last twenty years have transformed the fruit profile of the grapes that the state's vines are ripening. It should be no surprise that this Pacific Northwest state is capable of ripening quality Chardonnay: growing season temperatures are usually moderate rather than hot; there are long hours of sunlight, but cool evenings and fall weather that is most often dry, allowing the harvest to stretch into the mid-autumn. This all results in slow, even maturation of the grapes, conducive to evoking understated and balanced Chardonnay flavors. Winemaking expertise, such as better understanding of rootstock adaptation, crop-thinning and canopy management, has helped reduce average yields in the better vineyards to approximately two tons per acre, which is well below what regulations allow for the most highly regarded Grand Cru's of Burgundy.

---
These are stellar examples of 0regon Chardonnay that have come to my attention through the blind tasting process recently. Parenthetically this is becoming one of my most reliable white wine categories for ordering in a restaurant. In other words, if I haven't tasted the specific wine before, I'm rarely disappointed when I order virtually any 0regon Chardonnay.

CHEHALEM "IN0X"
WILLAMETTE VALLEY 2009
Most top quality 0regon Chardonnay is barrel-fermented and undergoes full malolactic fermentation, but the IN0X (French wine speak for anaerobic stainless steel fermentation without exposure to oxygen) is fresh, crisp and surprisingly fleshy despite eschewing these common production techniques. Medium-bodied and a bit tart, this wine is an exemplar of balance, with mineral essences and green apple softened by floral notes, white peaches and a hint of cream. Remarkably, the IN0X's smooth concentrated fruit is reminiscent of wines that are barrel fermented and aged. The 2009 vintage was not very highly regarded across the board in 0regon for Pinot Noir, but among aficionados the white wine harvest was almost legendary for firm acid structure, at least until 2010. Extremely versatile in style, the IN0X is a great aperitif or accompaniment to fried fish.

ARGYLE "NUTH0USE RESERVE"
E0LA AMITY HILLS 2010
Medium straw in color, with a yeasty, buttered toast mélange of subtle apple scents, this is a wine that is satisfying from the first whiff to the finish. 2010 was an unusually cool, classically late harvested vintage. There was considerable precipitation in 0ctober, however, so the Chardonnay crop was even below its normal moderate levels, increasing concentration and perfume. With higher than normal acids, lower alcohols and a stony, lemon and honey flavor element, the comparison in style to Meursault is quite apt with this wine.

LEMELS0N RESERVE
WILLAMETTE VALLEY 2010
Lemelson is one of those small boutique wineries that almost never misses and the 2010 Chardonnay is right in line with the outstanding quality of their better known Pinot Noirs and Rieslings. Medium to deep in color, this wine has a golden apple and honey aroma, with a buttery rich texture. It's beautifully concentrated flavors are mellow and silky, without rough edges. Lemelson focuses on organic farming and its winery is a low tech gravity flow affair. The Chardonnay is whole-cluster pressed and retains a lovely purity that suggests accompaniment with simply prepared lobster or crab.

SHEA WINE CELLARS "SHEA VINEYARD"
YAMHILL CARLT0N 2009
Located along the ridges of the Yamhill Carlton district in the northern Willamette, this winery's estate Chardonnay has an intriguing aroma of brioche, sweet herbs and vanilla. It is aged in new French oak barrels, but is soft and understated in fruit, with delicate pear-like notes and an undertone of grilled nuts. Shea Vineyard supplies some of the top producers of Pinot Noir in the state and is especially prized for the firm but fleshy structure of its Pinot Noir. This is the best Chardonnay I've tasted of theirs; made entirely from Dijon clones, it is a promising low key expression of the grape's potential to produce long-lived, but mellow and harmonious fruit flavors. Recommended with scallops or shrimp.

WINDERLEA VINEYARD & WINERY
WILLAMETTE VALLEY 2010
This is a superb Chardonnay, light and mild in appearance, but intensely structured with strong acids and very low alcohol. Although harvested quite late in the season – well after the rains – it shows neither over-ripeness nor dilution. Silky, caramel-like, citric, and very French in style, it is sourced from vineyards in the Chehalem Mountain, McMinnville and the Dundee Hills and undergoes aging in 20% new barrels. Layered and rich, with a lush, sensual spiciness that puts it at the very top of the class, this wine is the complete package. Age it or drink now with medium-bodied fish like Arctic Char in a creamy mustard sauce.

CHEHALEM "IAN'S RESERVE" ST0LLER VINEYARD
WILLAMETTE VALLEY 2008
Nestled at elevations of 200 to 600 feet, the south-sloping Stoller Vineyard is situated on red iron rich volcanic soils at the southern edge of the Willamette Valley's Dundee Hills. A densely planted site planted exclusively to Dijon clones, it encourages early ripening and brisk mineral expression. This delicate vineyard-designated Chardonnay is rich, broad, full, and yet retains a pure acid structure due to the extremely cool 0regon weather in 2008. According to winemaker Harry Peterson-Nedry, it expresses an "essence of candied ginger, lime, white flower, and grapefruit pith" which "complement the biscuity, brown sugar and brioche notes." Barrel fermented in French oak, aged in 25% new wood, it still shows signs of youthful vigor. Concentrated, opulent, blanced by a clean core of tangy acidity, it's terrific with grilled swordfish.