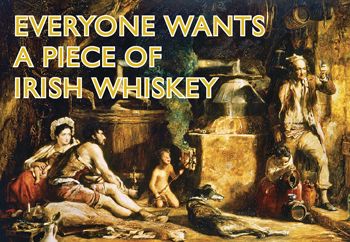 Article By: Lew Bryson
Last October, three Irish distillers were sitting on the stage at WhiskyFest New York. The audience: very serious aficionados who'd paid hundreds of dollars to be there. The deep subject: Understanding Irish Whiskey. Colum Egan of Bushmills was leading the audience through a tasting of Bushmills 21 year old.

Don't just taste it, he urged; use all your senses. Smell the fruity, nutty aromas. Look at the beautiful amber color. Feel the slick, malty slide of a drop. Listen to your whiskey, he said, very seriously . . . and held the glass up to his ear, furrows of concentration on his face.

And he leaned into the microphone and whispered, "It said," then in a quavering comic falsetto, "Drink me!" The audience broke into laughter.

"When you think about Irish whiskey, and you think about Colum. . . he just embodies it," said Yvonne Briese, Diageo's VP Marketing for Irish whiskeys. "They're approachable, like the Irish people."

Paul Di Vito, Pernod Ricard's Brand Director for Irish whiskey, concurred. "Jameson is a serious whiskey that doesn't take itself seriously," he said emphatically. "When the whiskey drinker asks the retailer for something different after American whiskey, they usually take them straight to Scotch. What Jameson has offered is a step in between, that third way, with an indefinable smoothness that's just not there in American and Scotch whiskies."

Briese then played a variation on Di Vito's second point. "For American drinkers, there's whiskey, American and Irish . . . and then there's Scotch," she said. "Bushmills is distinctive, but it's a very different delivery from a Scotch."

Speaking of threes . . . the third-largest seller in America banks on that number. Tullamore Dew has "some brand awareness building to do in the US," admitted Ken Reilly, Category Marketing Director, "but those coming into the brand recognize the unique character. We are not just triple-distilled, we are a triple blend: pot still, malt and grain whiskey, all three whiskey styles." That's working: Tullamore Dew's growth in 2O12 matched that of the category, while taking price increases. The brand is the second-largest in global Irish whiskey sales; "By a large margin," Reilly said, citing the brand's strong European position.

SERIOUS NUMBERS US Irish whiskey sales continue to track at around 2O% in each of the past dozen and more years. That's brought an explosion of brands to the market – Cooley's portfolio, Tullamore Dew's return, Michael Collins, Slane Castle, Slieve Foy, and more – and led Beam to buy Cooley outright early last year. Everyone wants a piece of Irish; it's a very bright spot in the market indeed.

Di Vito sees this growth as a completed first stage, even with Jameson being the giant in the category at approximately 75% of total Irish whiskey sales. "It is a category that is in its infancy," he asserted, "and all brands are having great growth. It's now come of age, and we have new competition entering the market. We see the next stage as growing the category, and Jameson will do well from that."

He's talking about going deep in new regional markets in the US. "We have a huge amount of new people to approach in those markets. We'll approach them the same way we did in New York 15 years ago: grassroots work with brand ambassadors, talking about simple product quality and taste."

Massachusetts, of course, is an established Irish whiskey market; knowledgeable, sophisticated and still thirsty. That makes it perfect for the new whiskies that are coming.

ADDITIONS + SUGGESTIONS Di Vito said that while Jameson will continue to be the main focus, their other strong historical brands will get more attention. "That can only happen because of the growth and evolution of the category," he said. "The category's ready because the trade and the retail and the consumer is ready."

So what's he got? Paddy's will be getting some of the spotlight. "It has a much lighter taste profile, even lighter than Jameson," he noted, "and people coming into the category find it a great way to enter the category."

Powers will see a major expansion in promotion, exciting news for a brand that's seen increasing word-of-mouth acceptance. "People looking for a bigger, spicier mouthfeel gravitate to it," Di Vito said; "that's the higher proportion of pot still whiskey."

Two new Powers expressions will deliver that taste. The wonderfully robust single pot still Powers John's Lane bottling is coming soon, "no later than mid-March", and priced around $6O to $7O. The second expression, a no-age-statement, pot still-heavy midweight expression priced at about $45, is coming in the summer.

"Our approach is a portfolio approach moving forward," said Di Vito. "The brands have their own DNA, and we will continue to keep them separate. They talk to very different consumers and occasions." That includes the Jameson portfolio, of course; the 12 and 18 year old, the Gold, and the allocated Rarest Vintage Reserve.

Bushmills is going to be moving on a broad front, supported by their successful "Since Way Back" ad campaign. The 21 Year Old is still on allocation – "So if the consumer's really into whiskey, and you have it . . . tell them they'd better buy it!" said Briese – but there will be plenty of inventory, especially of Black Bush, the brand Briese tagged as the best upsell, and a great category introduction.

For now they're pinning expansion on the new Bushmills Honey. "We wanted to maintain the character of the Bushmills whiskey coming through it," Briese said, "and the distillers nailed it. We're very optimistic about what we've seen so far. It's the biggest, easiest opportunity for the retailer to sell Irish more than during the Irish holidays."

Tullamore Dew is shaking up their portfolio. "It's going to be an interesting year," said Reilly. "The 12 year old is the fastest-growing of the premium bottlings. The 1O year old malt is a discovery malt, finished in bourbon barrels, sherry casks, Madeira pipes, and port drums. But the 1O year old blend will be replaced with a new variant." He declined to give details: watch for that later this year.

Their big news is the new distillery in Tullamore, funded by new owners Wm. Grant & Sons. Plans cleared local zoning in late January, and spirit should be produced by late 2O14. "When that comes fully on line," Reilly said – aged spirit comes available in 2O18 – "we'll have the freedom to create new expressions. We'll control our own destiny."

What about Cooley? You'll see more of their whiskeys, and they'll be talking about their own "new" distillery, the renovated Kilbeggan, where production has begun on a small scale. That's because it's the namesake for their focus whiskey.

"Part of our strategy to become the world's leading premium Irish whiskey family is to make a significant investment in Kilbeggan," said Bob Gorman, director of world whiskey at Beam. "Unlike other Irish whiskeys, Kilbeggan is double distilled to retain more flavor, which creates a highly approachable whiskey with distinct character."

While Kilbeggan will get Beam's full support, their other brands are worth a look: Tyrconnell, a single malt whiskey (with wood-finished variants); Connemara, a unique peated single malt Irish; and Greenore, a rare aged grain whiskey. They're all double-distilled, and like nothing else in the category.

There are a ton of other brands, but Knappogue Castle deserves some attention. It is an independent bottler of single malt Irish whiskeys, bottled with their natural color. The flagship 12 year old is aged in ex-bourbon casks. Moving up, there's the 14 year old Twinwood, aged in a combination of bourbon and sherry casks, and finally, the 16 year old Twinwood, aged 14 years in bourbon barrels, then finished for 21 months in oloroso sherry casks.

Mark Reilly, the general manager at Marty's in Newtown, reminded me that their Atlantic importing arm brings in both the well-reviewed Slieve Foy and the new Kellan blended Irish whiskeys. "We're getting them at solid discount," he said.

Reilly said they keep a large selection, including Paddy's; "a good niche market, it was forbidden fruit for a long time." Nothing's really challenging the 'Big Two,' he said, but they like to have the smaller niche brands: Connemara, Powers, Slane Castle.

"Most people are aware of the other brands," he said. "There are the people who are just going to look at their brand – Jameson or Bushmills – and not venture beyond that, but there is a younger coterie of people who are more adventurous. They'll ask, and we will offer some descriptions.

"The Redbreast is doing pretty well," he noted. "I think it's smart on the part of Midleton to have that diversity of labels, not just only 'Jameson everything.' If you have have a limited amount of space and the whole space is one brand, it looks like it isn't a good selection. Brand diversification works a lot better."

That diversification is a sign of the Irish category's maturing, and of the new interest in whiskey in general. "When I look across whiskey categories," said Diageo's Briese, "there's a true renaissance going on, and people are more interested than they've ever been. It's an opportunity to take them and show them something like Black Bush."

Tullamore Dew's Reilly is equally optimistic, but cautions to keep that 'not so serious' touch: "You hear so much debate in the Scotch whisky world: how many ice cubes, any ice, water or not water, how you hold the glass . . . Irish whiskey is about the people around the whiskey. The only thing we ask is to drink it responsibly, drink it with friends. After that, make up your rules."

Great advice. Stay loose, stock up and ride the Irish wave. And listen to your whiskey!