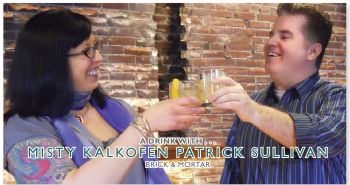 Article By: Brandy Rand
A DRINK WITH . . .
MISTY KALKOFEN + PATRICK SULLIVAN
BRICK & MORTAR
To most of us familiar with the cocktail landscape, Misty Kalkofen and Patrick Sullivan need no introduction. Between the two of them, they've logged in 36 years of hospitality, weaving in and out of beloved institutions across Boston and Cambridge. The dynamic duo first joined forces at the B-Side Lounge, known for being at the forefront of the cocktail revolution. Lucky for us, they've come together again at Brick & Mortar, a neighborhood bar that makes serious cocktails with a sense of humor.

BRANDY RAND Tell me about your bar resumes and backgrounds:
MISTY KALKOFEN I've been working in the hospitality industry since 1994 when I moved to Boston for graduate school. From server to bartender to manager I've done just about everything. My life altering moment, however, came at the Lizard Lounge when Brother Cleve presented me with a specially ordered bottle of Old Overholt Rye and dubbed me his cocktail protégé. I've weaved a path of stints behind bars on both sides of the river since then – from the Lizard Lounge to The B-Side to Green Street to Drink and now to Brick & Mortar.
In addition to running the cocktail program at Brick & Mortar, I am the Boston liaison for Del Maguey Single Village Mezcals, I work and travel with the BARSmarts education program, and I own a company called Revolution Cocktails focused on cocktail consulting and catering.
PATRICK SULLIVAN In 1996 I was hired on the bar at East Coast Grill and Raw Bar. It was an incredible experience – still the most fun and rewarding job I've ever had! I met some amazing people there. I bought the Windsor Tap in 1998, dusted it off, hired some like-minded people, and re-opened as B-Side Lounge. It was fantastic; such an exciting time to be in the bar business. Things were changing in the bar scene in the city, you could feel it. The cocktail movement was in its infancy, guests were getting turned on to new drinks, new products and they had greater expectations. The guest base was getting more and more informed which pushed us all harder and harder. These were great times.

In 2OO9 I began working with Legal Sea Foods as Director of Bar Operations. The cocktail movement had certainly grown to new heights; it's now a requirement that restaurants of distinction have an equally impressive bar program. Legal Sea Foods embraces the new bar-forward movement by focusing its growth on concepts with significant bar and cocktail programs. I continue to work with Legal Sea Foods, helping to lead this new direction in business.

In late 2O11 I joined old friend Gary Strack of Central Kitchen and Firebrand Saints in Cambridge to help him transform the beloved Enormous Room dance club to a friendly, everyday neighborhood bar – Brick & Mortar. Once again I was fortunate to hire some amazing, like-minded people and deliver some uncommonly good drinks in a friendly, approachable way.
We are off to a great start.

BR Your cocktail philosophy?
MK+PS So many of our guests really enjoy cocktails, it's easy to forget that a lot of people feel there is a certain pretension in regards to the cocktail resurgence, perhaps because they had a bad service experience at a "cocktail" bar or because they were never properly introduced. We created a menu focused on more uncommon and challenging ingredients such as grappa and amari so we must build a sense of trust so our guests are willing to take a chance on something they've never had before. We believe that cocktails should be accessible to everyone and not just those who know the secret knock. This means taking extra time to listen and guide a guest.

BR If you weren't in the bar business you would be doing what?
MK+PS We would be Thursday night prime time TV private detectives – Jameson and Ginger.

BR What are you most proud of about your beverage program at Brick and Mortar?
MK+PS The answer goes back to our philosophy – we've created a neighborhood bar where our guests can feel equally comfortable ordering a can of Budweiser or a complex Scotch based cocktail. Because of that we now have people breaking out of their comfort zone and trying things they never thought they would enjoy. We have regulars who started coming to Brick & Mortar to drink their go-to vodka and soda and now regularly sip a grappa based cocktail.

BR First cocktail that changed your life and why?
PS The Frisco – one of the original six cocktails on the B-Side Lounge cocktail menu. The combination of rye whiskey and Benedictine was unlike any flavor combination I'd experienced in cocktails before and the guests loved it. The Frisco turned out to be a great introduction to classic cocktails for many people in the early days. It's still a great drink.
MK My first properly made Old Fashioned. It taught me a very important lesson as a bartender – drinks that look simple on paper should not be underestimated. The drinks that stand the test of time usually involve a simple combination of ingredients that results in a complex flavor experience.

BR Is there a totally different kind of drinker walking through your doors now?
MK+PS Our guests are becoming more educated with each passing day. It was only three years between the closing of the B-Side and the opening of Brick & Mortar but it seems like a lifetime when you consider the growth and the knowledge of the average drinker. When we first met in 1998 we were digging through original manuscripts from the early 19OO's that we had painstakingly sourced from book sellers throughout the US. All the cocktail people we knew at that time were history people – the two went hand in hand. Now, with the proliferation of internet, cocktail writing both in print and on the internet, and the influence of great bars like Drink, Eastern Standard, etc., the information is easily accessible to everyone. There is an upside and a downside to this. We can walk into a random restaurant in Hingham and find a classics menu which features a Sazerac. Obviously that is amazing! The down side is that a little information can be a dangerous thing. Guests – and new bartenders – can sometimes put the cart before the horse . . . constantly looking for the next greatest thing when they have yet to sample and master all the classics from which the next new thing gains its inspiration. If I present a guest with the cocktail I've been refining that is based off of a Sazerac and they have never enjoyed a Sazerac, part of the experience is lost.

BR Is there a cocktail that you served at B-Side that still is relevant and popular at Brick & Mortar today?
MK+PS The Doublewide. At the B-Side the Doublewide was the result of a broken soda gun and a tip-of-the-hat to one of our bartenders who had grown up in a doublewide trailer in Arkansas. It was a Manhattan using coke syrup rather than vermouth. The B-Side was always tongue-in-cheek and about having fun. The spirit of the drink is as important as the drink itself. Having the Doublewide on the menu at Brick & Mortar (where we don't have soda guns) reminds us that it's okay to take what we do seriously, but we should never take ourselves too seriously. And it reminds us of our great friend Boob-Dog (RIP), who we love and miss, who created this fun, delicious and ridiculous drink.

BR Spirit you are most excited about right now and why?
MK+PS Brick & Mortar is all about agave. Bacanora for breakfast, Mezcal for lunch and Tequila for dinner. Thank you.

BR When the going gets rough, what gets you through your shift?
MK+PS A sense of humor and a copita of mezcal.

BR Where do you like to drink when you aren't at your bar?
MK+PS We love our neighbors in Cambridge – Green St, Rendezvous, Craigie on Main, and Trina's. The community in Cambridge is amazing and we are so happy to be a part of it. When we escape to the other side of the river you can't beat having a cocktail at Drink, Hawthorne or Deep Ellum/Lone Star.

BR There's been a lot of talk in the bartending community about the return to service – no more fussy and complicated cocktails. What is your take on this?
MK+PS It's important to not confuse service and complicated drinks. Cocktails are the cocktails and hospitality is hospitality. Service comes into play even if you are ordering a can of cheap beer. For a while hospitality, truly taking care of a guest and their specific needs, was getting lost in cocktail bars. The attention was focused on the bartenders and the drinks and away from the guest which is never a good thing. Great cocktails with terrible service is subpar, as is great service with terrible cocktails. We are in the hospitality industry. This shouldn't be pushed aside.

BR Person – dead or alive– you'd most like to make a cocktail for?
MK Ada Coleman. My bartending forebroad hero, Ada worked on the bar at the American Bar in the Savoy Hotel in London in the early 2Oth Century. She created my LUPEC signature cocktail – the Hanky Panky, a variation on the sweet martini which incorporates the bartender favorite – Fernet Branca. Hopefully I would have the nerve to serve one of my original creations to her advanced palate but the possibility exists that I would be too nervous and return to her classic creation.
PS Adolphus Busch. My friends and family are Budweiser people. I don't trust anyone who doesn't drink Budweiser. I'd like to ask him how they can make it so good and sell it so cheap? Almost every laugh I've ever had in a bar has been with a can of Bud in my hand. Bud. Shot. Repeat.