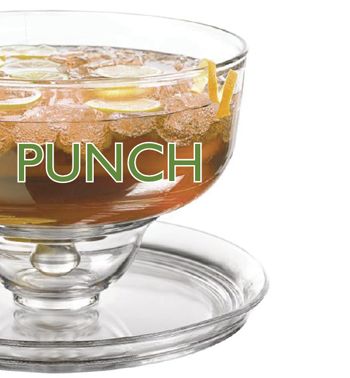 Article By: Pink Lady
What could be more convivial than gathering around a punch bowl as you whet your whistle? Little do most imbibers know, punch was the predominant way to imbibe for nearly 2OO years – from the 167Os until the 185Os. Punch got its start in India, where the drink was made by English sailors and employees of the British East India Company. It typically contained five ingredients: spirits, citrus, sugar, water, and spice. The name derives from the Hindi word for the number panch, which means five.

The punches of yesteryear were not for the faint of heart. As David Wondrich writes in IMBIBE, "It bears the same relation to the anemic concoctions that pass under its name today that gladiatorial combat does to a sorority pillow fight." And how. Should you decide to mix this recipe up at home, be sure to warn your guests. It's all booze but tastes like it isn't.

Of course, the good old days of lingering around until a bowl of punch was drained could only last so long. We Americans are industrious and busy people – or at least liked to seem that way. We are also rugged individualists who like to have our drinks our way. Punch by the bowl eventually gave way to individual punches made to order to a guests liking. Which eventually gave way to cocktails. Try this recipe for a classic 17th century bowl of punch for your next party! Why not party like is 167O?

---
SILENT NIGHT PUNCH
A variation on an 18th-century punch recipe.
Serves about 4O people.

2 green tea bags
8 lemons
1¾ cups superfine sugar
1 liter of Pierre Ferrand Ambre cognac
1 375ml bottle of Plantation five-year-old rum
6 ounces of Green Chartreuse
6 ounces of Benedictine

Two days before the party
fill a small metal bowl
(sized to scale with the punch bowl)
with water and stash it in the freezer.
A few hours before or
the night before the party
steep two green tea bags in two cups water
for 5 minutes. set aside to cool.
peel 8 lemons. In a large bowl,
muddle peels in sugar until oil is absorbed.
add tea, cognac, dark rum, Green Chartreuse,
and Benedictine to the bowl.
stir until sugar is dissolved.
add four cups of cold water and refrigerate.
Just before serving
add 12 ounces fresh-squeezed lemon juice
to the alcohol-sugar-tea mixture.
pop the ice from the metal bowl
and add it to the punch bowl.
serve it in punch glasses with a little fresh nutmeg grated over the top.