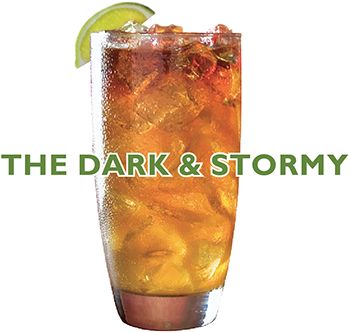 Article By: Pink Lady
THERE'S NOTHING QUITE LIKE whiling away a lazy summer afternoon on a boat. For sailors of all stripes, be they Ralph Lauren nautical or legit Navy blues, the Dark & Stormy is a delightful drink. As with so many great classic cocktail recipes, the origins of the Dark & Stormy are foggy. There was a time when the British Royal Navy allotted a rum ration of 2 ounces a head. The rum was blended, dark and funky. Circa 186O, the Goslings family began to manufacture their dark, aged rum in Bermuda. Around that time, the British Royal Navy added a ginger beer bottling plant to the nearby Royal Naval Dockyard. Who's to say why? It couldn't have been long before sailors were mixing the two for a bitter, gingery beverage. The concoction is sure to soothe sea-sickness, not to mention that brutal self-inflicted ailment, the hangover. It's a great sip to drink on location in a seaside town after a long day at the beach or boating amongst sun-tanned regulars at a salty local watering hole.
Ahoy!

---
DARK & STORMY
2 ounces of Goslings rum
4 ounces of ginger beer
½ ounce of lime juice

Build in a Collins glass over ice.
Garnish with a lime wedge.