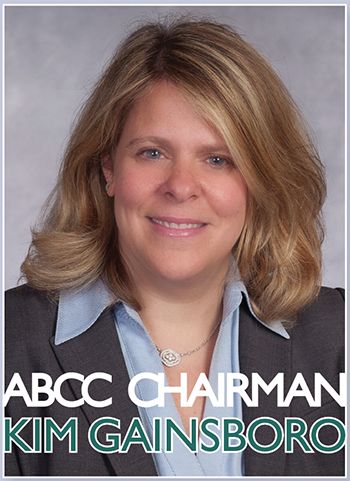 Article By: Kirsten Amann
ONE MIGHT IMAGINE that walking into the Alcoholic Beverage Control Commission headquarters to meet with Chairman Kim Gainsboro would feel a bit like walking into the principal's office. This is, after all, where the letter of the law as it applies to "the sale, purchase, transportation, manufacture, consumption and possession of alcoholic beverages in the state" is interpreted and enforced. And as Chairman, Gainsboro is certainly a powerful figure. But cross the threshold of the brick structure located across from the Fleet Center, wind through a short hallway, and you'll find the Chairman's office to look just like any other hub of industry. It's sizable and sunny with two big whiteboards lining the walls. On the Chairman's desk sits a mug filled with red pens, bearing the phrase: "Failure is not an option".

Yet Gainsboro herself is more like a personable guidance counselor than strict principal, with a disposition that matches the airy, open atmosphere of her office.

A lawyer for 2O years, Gainsboro cut her teeth working for the District Attorney's office, prosecuting felonies and armed robberies. She was the Assistant District Attorney in Norfolk County for five years, then moved to Suffolk County for a five year stint in the same position. "It was very difficult," she says. "We prosecuted everything and there was a lot of complex litigation." She next worked in the private sector specializing in medical malpractice and employment law.

In 2OO3 Gainsboro came to work for the State Treasurer and Receiver General's office where she served as Deputy General Counsel and Assistant Treasurer of Human Resources. She was appointed Chairman of the Alcoholic Beverages Control Commission in 2OO8 by then-Treasurer Tim Cahill, and subsequently reappointed by Treasurer Steven Grossman. In 2O11 Gainsboro was appointed a Deputy Treasurer adding the Unclaimed Property Division and the Veteran's Division to the list of departments she oversees. It's no small set of responsibilities.

Gainsboro spends a good portion of her week in hearings and working on decisions. Tuesday, Wednesday, and Thursday she is in violation hearings from 9 to 3 and on Wednesdays there are also appeal hearings. "Those are longer and usually involve lots of evidence," says Gainsboro, who considers her evaluation of these cases a priority.

"I'm doing what I should be doing, giving people an opportunity to be heard."

Since being appointed Chairman of the ABCC, Gainsboro has had her sights set high on streamlining the commission and all of its procedures. It has been no easy task. "We want to make it easier for applicants to get licenses," she states. "We understand that people are trying to open businesses. But we're working with laws from 1933. It's a delicate balance – this is a highly regulated area. You can try to look at the ABCC as though it's any other type of business, but it's not."

Gainsboro's efforts have hardly gone unnoticed by her colleagues. "I ran the agency when we first took it over from Consumer Affairs in 2OO4," says Attorney Grace Lee, former First Deputy of the Treasury. "It was essentially inoperable. We had to rebuild the agency so I've been able to compare and contrast the differences since Chairman Gainsboro took over. By anyone's account, she has really brought it to its current status. She was our second appointment. The combination of her administrative, managerial, and legal acumen made the appointment a no brainer. And all I can do is underscore her superb performance."

Navigating the laws can be a challenge, Gainsboro admits. "You look at some of them and understand why people get upset. But generally we have very good licensees in the state of Massachusetts, and they're doing a great job. They want to educate themselves. One of the reasons we exist is to level the playing field and make sure everyone is playing by the same rules.

And people are doing a good job at that."

Adding to the challenges the ABCC faces are a limited budget and small staff. The commission is made up of 25 people, serving a population of 22,OOO licensees. "It's the 5th largest ratio of licensees to enforcement," Gainsboro remarks. "And we work with great people. We're very business friendly, and have great licensing enforcement on our side."

"When I came on in 2OO9 I was managerially restricted," she continues. "Prior chairs focused on decisions and hearing, and on restrictions." Gainsboro quickly put herself to the task of making the agency state-of-the-art. "I wanted licensing to be easier to understand and more transparent. Let's open the windows and shine the light in."

Her first priority was to overhaul the website, which was modernized and updated in August of 2O1O, making the licensing process significantly more accessible for licensees and applicants. "People should know we want to make things easier them," says Gainsboro. "We've completely overhauled the website and put everything online. We always have projects - there are times when those whiteboards are completely full! I'm always looking at things and asking myself 'Why can't we do this?'

I look at us as a start-up company."

Another major goal of hers was to revise and update ABCC forms, which had not been modified since the mid-199Os. Current forms have consistent language, clearer explanations of what information is required, and closed previously existing loopholes. "We're trying to make things better for people," says Gainsboro. "We've overhauled the renewal process, now it just takes one page. It's saved us hours and hours."

"We face challenges every day because of these legacy issues," she continues. "I try to look at things and ask 'Why are we doing it this way? Is there a way we can do it better?' It's been very rewarding to make things easier."

"Chairman Gainsboro is one of the most talented managers I've come across," says Lee. "She has a keen eye for streamlining office operations and executing plans. She is exceedingly bright, and doesn't suffer fools lightly. She has been able to set that agency up to operate on an optimal level which is no easy feat. It has a rich history of dysfunction but she has single-handedly streamlined it. Kim has a business background and is therefore very business friendly. She's been able to blend her personal and professional experience to really benefit the commission. There are not enough good things I can say about her."

Steve Miller – a Managing Partner at McDermott, Quilty & Miller LLP, who represents clients in all sectors of the alcoholic beverages and hospitality industries and has been working with Gainsboro since she was first appointed – has nothing but praise for her work, saying, "She's done a great job updating the agency with technology, forms, procedures and policies. From the standpoint of both the industry and the attorneys who practice before the commission she's done an outstanding job. She's assembled a strong team and continues to move the agency forward."

As for what the future holds for the ABCC, Gainsboro plans to continue making strides towards efficiency. For two years she has been working on an e-licensing system which will help improve customer service, transparency of information and streamline administrative processes. This new system will be a single portal for all things related to alcoholic-beverage licenses. Licensees will have real time, online access to license information and be able to register complaints, and check the status of disciplinary proceedings at any time. "I'm really excited about it," says Gainsboro.

"It's going to make things so much easier and revolutionize the agency." It will also make the licensing process quicker and more efficient. For example, the number one problem for delays in licensing is missing information. "Oftentimes either the application is filled out incorrectly or the right supporting documents are not included," she explains. "The new e-licensing site won't let you proceed through the system without having all the right documents. It's going to be great for applicants, helping them focus on what they need to versus searching for missing information."

"Kim has accomplished more in just a few years, than any combination of commissioners has in decades," says ABCC Chief Ted Mahoney. "Where others have said that improvements for the beverage alcohol industry could not be accomplished, she has refused to accept that position and simply makes these improvements happen, whether it be the streamlining of the licensing process, greater accessibility or improved service to the industry. She has been extremely supportive of enforcement efforts to protect the public safety where it concerns the sale or delivery of alcohol, particularly in providing us with the tools to do our job."

All of the changes Gainsboro has made – and those that are yet to come – reflect a commitment to making things easier for the population she serves. "While she is probably the most demanding, she is also by far and away the best individual that I have worked for at this agency," says Mahoney. Gainsboro admits: "I'm usually the person in the room saying what everyone else is thinking. It can be a tough burden." But it's one she handles with grace.