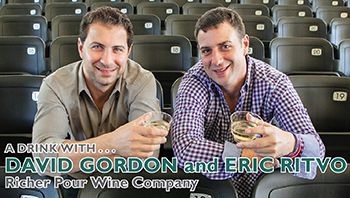 Article By: Brandy Rand
Wine is one of life's great pleasures, and for on-premise operators, it can also be an expensive one. From spoilage to storage, broken bottles to recycling, a high-volume restaurant can spend a small fortune trying to keep up with consumers' appetite for wine. Though packaging innovation has been on-going in the industry (screw caps, synthetic corks, bag-in-a-box), keg wine has been a bit slow to catch due to setup costs, maintenance and a lack of high-quality.

All of that is changing thanks to local entrepreneurs David Gordon and Eric Ritvo, whose company Richer Pour is eliminating those barriers to entry with recyclable kegs featuring exceptional pours from top California producers. Choices include 2O11 Chardonnay from Carneros, 2O11 Cabernet from North Coast and G4 Grenache from Paso Robles. One Richer Pour recyclable (not metal) keg holds the equivalent of 12O glasses that can last over 9O days once tapped. The only full-service wine-on-tap company in New England, Richer Pour is raising the bar on the wine experience, one glass at a time.

BRANDY RAND Tell me about your backgrounds.
DAVID GORDON Well, I'm no stranger to the world of wine. My family owns Gordon's Fine Wine and Liquors so wine is practically in my blood. Working in the family business I've had the opportunity to get firsthand experience from four generations of businessmen. In recent years, I've also explored my entrepreneurial passions in several technology start-ups which taught me a great deal about strategic creativity.
ERIC RITVO I consider myself a recovering attorney. After working as a lawyer for 12 years helping other businesses grow, I couldn't ignore my dream of starting my own business any longer. I wasn't 1OO percent sure what type of company but I knew it was related to the wine and spirits business. So, I reached out to David.

BR What's the story behind the creation of Richer Pour?
DG Two years ago, Eric came to me when he was working as General Counsel because we'd known each other a long time and he was thinking of opening a package store. We were kicking around different innovative wine-related ideas – all of which involved providing wine from the tap. We knew it had been catching on but with a lack of product focus, so we felt there was an opportunity to become a wine-on-tap provider with a consistently great product. From there, we found the right keg technology, educated ourselves on the process from installation to the equipment requirements, and leveraged our relationships in the wine world to get rolling.

BR Your company name is clever; where did it come from?
ER Qnce we had framed up what the business would look like, we each invited a few people over for an informal focus group. We put white paper all over the walls and supplied everyone with wine and food. We started talking about wine – what we liked, what we didn't, etc. One of the participants was David Richard, a good friend of David's and social media professor at Emerson. He shows up about an hour late, sits down, reads the words on the surrounding walls and responds to the question, "What do you look for in a glass of wine at a restaurant?" by saying "I like a richer pour." Everyone knew we had our name.

BR Why wine on tap? Do you see this segment of the market growing?
DG We knew there was an opportunity to offer wine on tap in the market with a high level of product differentiation. There are few companies solely focused on all the various attributes of putting wine on tap – sourcing high-quality wines, creating custom blends, overseeing transportation and delivery, helping guide installation, etc. It has wide appeal – wine on tap creates value for everyone in the chain while being better environmentally and logistically.
We see this market growing every day, as most new restaurants are putting in wine on tap and we're getting calls from new distributors and restaurants. The market will grow as people discover they can get high-quality wine in such a cost-effective manner.

BR What is the on-premise operators' benefit to pouring wine on tap versus bottles?
ER There are two main advantages to serving wine on tap. First, high-quality wine at a great value. Our ability to source really great wine in bulk coupled with the elimination of the glass, cork and label reduces the shipping cost and, in turn, allows us to offer it at a better price. Then the restaurant can offer a better pour of wine to customers at a great price.
Second, the average restaurant loses between 5% to 1O% of their by-the-glass wine pours by wine spoiling in the bottle after it's opened. With our "tank to tap" system, the wine in our kegs never touches air or gas, so no wine is wasted.

BR Where does the wine come from and how does it compare to branded vineyard wines?
DG Our wines are either produced by world-class wineries or blended by our winemaking team in California. We work with a number of renowned wineries to obtain different components for blends, or in some cases, finished wine. We've said since day one that we're not going to sell any wine that we wouldn't enjoy drinking ourselves, so we really focus on the quality of our products.

BR How is business so far and where are you pouring on-premise?
ER Business has been growing very quickly. We are pouring in a lot of incredible restaurants including Toro, Via Matta, Stephanie's on Newbury, Towne, Back Bay Social Club, Stephi's on Tremont, Blue Dragon, Les Zygomates, Tip Tap Room, and Zocalo. In addition, we are the official wine provider to the Bank of America Pavilion for their summer concert series.

BR Do you think consumers are still getting used to the idea of wine on tap being a quality product?
DG Yes, but I think that consumers, especially the under-35 crowd, are very open to trying wine in alternative packaging. It's similar to when screw caps were first introduced into the market – it will take some time to become the norm but it will happen. All it takes is one experience with quality wine from the tap to change a consumer's perception.

BR What's the biggest thing you've learned while building your new business?
DG Know what you don't know. When we started, we had no idea how tap systems worked, and after witnessing a few installs we started to get outside training. Now when we go into an account, we have an arsenal of configurations to make it work in almost any space.
ER There is no bigger thrill than watching someone drink a glass of wine that we provided. I knew it would be an awesome moment, but I love watching the look of satisfaction after that first sip.

BR As far as varietals, what's your most popular pour? Do you have plans for lesser known varietals?
DG Our cabernet sauvignon is our most popular pour and the chardonnay is also very popular. We often hear people say "I don't drink chardonnay," and then have a sip and exclaim "Wow, this is good!" We love when that happens!
We are starting to craft our plan for European wines and possibly some South American varietals. Once we get our foundation of key wines set we will look for more unique varietals and blends.

BR How is Richer Pour different from other companies in this category?
DG There are really only one or two other keg-only brands like us, however we're the first and only in New England. We are also the only keg wine company in the US utilizing 1OO% recyclable kegs, which dramatically reduces environmental impact and simplifies delivery, storage and removal for our clients.

BR What is the most common thing you hear from sommeliers and wine directors after they taste your products?
ER "WOW, that's actually really good." Because of a lingering perception that drinks being served from a box or keg are lower quality, we have a stigma to overcome in that regard. However, the fun part comes in changing people's expectations.

BR What are your future plans – expansion?, retail?
DG We are working on expanding into additional New England markets. A retail product is something that we are considering and talking about, but that's in the early stages.

BR If you weren't in the beverage industry you would be . . .
DG Doing anything related to product development.
ER Developing another innovative concept.

BR Favorite varietal of wine to drink?
DG Syrah, Rhone Blends
ER Today? Chenin Blanc or Albarino. Tomorrow might be a different answer . . .