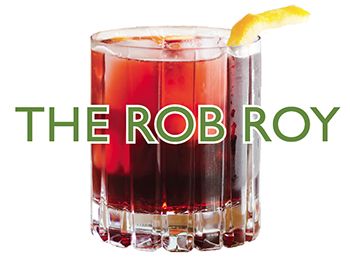 Article By: Pink Lady
SCOTCH AFICIONADOS can be quite particular about how they sip their single malts. "Just one rock" please, or a splash of water. Mention mixing with soda water, lemon juice or – GASP! – simple syrup and you're sure to receive a suspicious glance. We know, we know – scotch is serious business and we LUPEC ladies appreciate the stuff on its own. There is one cocktail, however, that dates back pre-Prohibition and is absolutely permissible to tipple (with a blend, anyway) – the Rob Roy.

What's funny about this whole conversation is that once upon a time, before Scotch was all the rage, well, Scotch was all the rage. We're talking about the 19OOs to '1Os. The invention of the continuous still begat the invention of blends which meant more on the once scanty imported spirit in higher quantities. Golf became one of Scotland's biggest exports in the 189Os and along with it, Scotch whisky. "By 19OO, the Scotch Highball was the most fashionable drink in America," writes David Wondrich in IMBIBE. Well I'll be.

Of the dozen or so Scotch cocktails that made it into the comprehensive cocktail books of the era, the Rob Roy was the only one that really took flight. A simple Manhattan variation made with orange bitters, the drink lives on today.
We recommend using something high end to balance out the broad shouldered spirit – Carpano Antica is a robust favorite.

---
THE ROB ROY
2 parts Scotch whisky
1 part sweet vermouth
2 dashes orange bitters

Stir ingredients with ice in a mixing glass.
Garnish with a lemon peel.

Cin-cin!