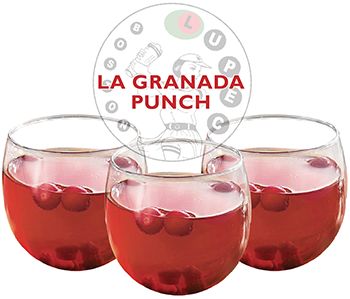 Article By: Pink Lady
THE HOLIDAYS ARE UPON US, and for the ladies of LUPEC, you know what that means: pop open the bubbly – we're making Champagne cocktails! The Champagne Cocktail, The Seelbach and the French 75 have already been discussed in previous festive editions. This season, we're looking to a modern classic to get us through the many parties and events on the docket, featuring a classic ingredient which has been "em-pinkening" cocktails since before Prohibition: grenadine!

Like so many ingredients that were hot pre-Prohibition, real grenadine is as true delight in a cocktail. Few know its charms because the brands that became de rigeur after the Noble Experiment are mostly made with chemicals and artificial colorings. We encourage you to look beyond the red bottle of Roses you might find at your local packie to the house-made variety. Grenadine is wonderfully versatile, and with the addition of a little vodka, can last if kept in the fridge for a good long while – about a month.

The resurgence of classic cocktails has seen renewed interested in both vintage syrups and interesting liqueurs. This drink calls for Pama, a pomegranate liqueur that has been on the market for several years and packs a sweet, tart punch. And since you've got lots and lots of parties to attend, we recommend you mix this beverage up as a punch. Then you can spend your time hob-knobbing with guests rather than shaking up drinks, or perhaps strategically placing yourself adjacent to the mistletoe with your punch glass in hand.

---
LA GRANADA PUNCH
Adapted from a recipe
created by Contessa,
a.k.a Courtney Hennessy of
Tres Gatos in Jamaica Plain

2 parts vodka
¾ part Pama liqueur
¾ part lime
¼ part fresh grenadine
top with pink champagne

Build in a punch bowl with a large chunk of ice.
Ladle over ice in punch cups to serve.
Garnish with mint or pomegranate seeds for festive coloring.


Grenadine is quite simply a syrup made with equal parts of pomegranate juice (easily purchasable in a bottle of POM if you haven't got the time or the mind to press your own from pomegranate seeds) and sugar. Heat the ingredients to melt the sugar into thick syrup, or combine both in a bottle and shake-shake-shake until the sugar is dissolved.





Cin-cin!