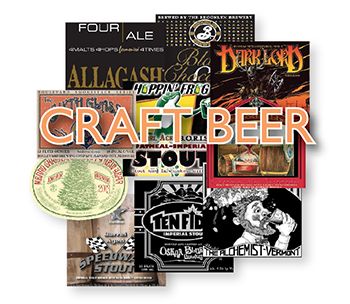 Article By: Andy Crouch
CRAFT BEER

IT IS DIFFICULT if not impossible for people new to craft beer to remember a time, seemingly ages ago, when flavorful beers were a scarce commodity. Back then, the occasional pint of Sierra Nevada Pale Ale or bottle of Samuel Adams Boston Lager, now derided by some hardened beer geeks as "mainstream brands", offered hope in a dark time. Now nearly omni-present, these beers and other locally produced pale ales, Hefeweizens and porters, along with larger brands, such as Blue Moon Belgian White by Coors, helped teach people about a new world of beer.

For every beer enthusiast, their drinking life is defined by a series of single beers and special moments. These moments happen in the right pub at the right time, with warm weather and the perfect quenching accompaniment, with celebratory occasions with family and friends, and with stolen minutes of personal solace at the end of a long day – each accompanied by one beer. The funny thing about this one beer is that the experience is likely reimagined in a series of beer sojourns enjoyed over an extended journey into craft beer.

After a lengthy and near-monogamous relationship with Miller Genuine Draft, my own interest in better beer started with my first sip of the famed Guinness stout. The polar opposite in terms of body, flavor and overall perception from the American-style premium lagers I grew up with, this gateway beer encouraged me to take my first brewery tour and then experience an impromptu jaunt through dozens of local and imported brands. I visited a new brewpub that opened in town and tried my first sampler, which unexpectedly led to my second beer moment. With the first taste of Court Avenue's Blackhawk Stout, I subconsciously learned the difference between the ubiquitous Irish-style Dry Stouts and the sweeter but less popular export stout style. With beers from Vermont Pub's syrupy Wee Heavy to Capital's malty Blonde Doppelbock to Summit's pleasingly bitter IPA, my interest and beer experiences multiplied. And just when I believe that I have seen and tasted it all, a beer comes along, like Sly Fox's wonderfully hoppy German-style Pikeland Pils, a canned craft beer, and the process starts again from scratch.

These singular moments, defined by individual brands, serve as path markers for the evolution of a craft beer drinker – from the early days of inexpensive cases of beer to later travels to distant breweries and pubs. In an era where you can order extreme beers from eBay, and some of the world's greatest beers are easily available in your local store, it can be easy to lose track of where our interests developed. Losing this focus can also cause a disconnect from the overwhelming bulk of folks who do not yet share the enthusiasm for the charming marriage of hops and malt. When approached by customers interested in trying a new style – or who appear ready for a break out craft beer performance – here are a few hard to match beers that will help arouse interest in any drinker.


FULL BODIED SEASONAL BEERS

THE SIXTH GLASS
Boulevard Brewing Company, Kansas City, Missouri
alcohol content 1O.5% ABV
Another big, substantial, quadrupel beer hailing from the culinary heights of Kansas City. Cleverly named after a literary reference to a Hans Christian Anderson tale decrying the ills associated with getting to the half-dozen drink marker, this estimable quad pours with an impassable quality, mixing deep burgundy and ruby tones with a sharp, tall cream head. The aroma tingles with deep, dark, sweet fruits, including fat, juicy plums and a lingering black pepper spiciness that adds character on top of the considerable Belgian yeast notes. Slightly phenolic to start, waves of dense, juicy fruit wash forward in a full-bodied mouthfeel that reveals hints of spice and deep, dark alcohol.

FOUR
Allagash Brewing Company, Portland, Maine
alcohol content 1O.O% ABV
With its soulful blend of garnet colored hues and dense whip of frothy beige foam, Allagash's quad is a looker bent on capturing your attention. Breathing deeply of dark fruits layered in cocoa powder and with a dark Belgian candi sugar quality that mixes with a touch of molasses, FOUR plays on your tongue. The wonderful aroma hardly does justice to the even more expressive body, which, in its rich fullness, expresses loads of fruit, including banana, blackberry and plums alongside a honey sweetness and a lightly spicy and herbal hop balance. FOUR is definitely worth taking some time to swirl.

IMPERIAL STOUT
The undisputed ruler of the dark end of the nightcap spectrum, Imperial Stouts again finds their origins in the rigors of world geography. In beer lore, British brewers long ago produced these strong beers for the Czarist courts in Russia. The Imperial Stout style is the kingfish of big, bold and dark beers, designed to simultaneously scare and intrigue the average drinker. Their forbidding pitch-black color and unusually deep brown head serve as warning signs to the wary: enter at your own peril. Imperial Stouts burst with massive malt notes, from powerfully roasted malts to cloyingly sweet port elements, usually balanced by a healthy addition of strong, earthy hops. Alcohol heat, ranging from 8 to 12 percent or even higher, is also usually present as the beer's body remains dense and silky from the use of so much malt. The best versions avoid the cloying trap, instead offering nuanced jumbles of licorice, treacle, dark fruits, raisins, chocolate, coffee, and dozens of other flavors.

BLACK CHOCOLATE STOUT
Brooklyn Brewery, Brooklyn, New York
alcohol content 1O.1% ABV
With its opaque black body and striking cocoa brown colored frothy head, the Black Chocolate Stout exudes a cool charm. The active nose sings with a melody of chocolate and mocha coffee flavors of all ranges, with the additions of hazelnut and light alcohol warmth. The full-bodied flavor masks the alcohol content and pours forth with layers of velvety dark chocolate, with milk chocolate notes wrapping around mocha, and fueled by a slight earthy bitterness. A beer that ages incredibly well, try stashing a few bottles in a cool, dark space and opening them alongside newer vintages of this well-valued prize.

B.O.R.I.S.
THE CRUSHER OATMEAL-IMPERIAL STOUT
Hoppin' Frog Brewery, Akron, Ohio
alcohol content 9.4% ABV
With a jet black shade and a light wispy mocha head, B.O.R.I.S. makes a fairly timid first impression. The shyness lulls you into a state of calm which is shattered by powerful shouts of chocolate, toasted malt, vanilla, and alcohol in the bouquet. The full-bodied beer responds with slightly syrupy mouthfeel filled with deep, dark chocolate and coffee notes, a light toasted and dry oatmeal quality, mild alcohol heat, tannic hints, and touches of vanilla. Sturdy and strong, this hybrid Imperial Stout beautifully blends ingredients into an inviting and even nuanced performance.


TEN FIDY
Oskar Blues Grill and Brewery, Lyons, Colorado
alcohol content 1O.O% ABV
Promoting itself as the ultimate Rocky Mountain Winter Warmer, this Oskar Blues offering, as with all major offerings from the brewery, is available in aluminum cans. To see an opaque black colored and thick liquid issue forth into a glass, with a deep brown head, definitely catches your attention after a lifetime of being taught to expect fizzy, yellow lager. The aroma is filled with sweet molasses, light mocha coffee and leather. The full-body explodes with flavor at a pace far exceeding the aroma, with hammering notes of sweet dark malt and molasses mixed against a crushing hop and roasted malt bitterness. Slight alcohol warmth serves to lighten the experience, allowing all of the elements to gel before finishing in a flourish.

SPEEDWAY STOUT
Alesmith Brewing Company, San Diego, California
alcohol content 12.O% ABV
Not a beer to be underestimated, Alesmith's Speedway Stout handily captures the essence of the American Imperial Stout with this mystifyingly black beer that has a dense pillow of brown foam. The aroma wallops your nose with loads of fresh dark roasted coffee, deeply burnt malts, dark chocolate, and light earthy hops. Serving up a double espresso shot, the coffee angles play heavily in the full-bodied stout, with layers of dark roasted malt following slight molasses sweetness and the faintest hints of dark, chocolate covered fruits. Velvety and smooth despite its alcoholic girth, Speedway Stout eases to victory in the all-encompassing Imperial Stout experience.

WHITE WHALES
Admittedly difficult if not impossible to find anywhere but the breweries, in limited market releases or via traders, these are beers that your customers may ask you about at some point.

DARK LORD RUSSIAN IMPERIAL STOUT
Three Floyds Brewing Company, Munster, Indiana
alcohol content 13.O% ABV
At the far horizon of the Imperial Stout spectrum lurks a beer whose flavor and motor oil consistency have made it perhaps the most geeked-out craft beer on the planet. Three Floyds sells much coveted bottles of its near-mythical Imperial Stout on one day per year, appropriately deemed Dark Lord Day, where hundreds of beer geeks gather on a cold Indiana morning to wait in line, buy their bottles and trade beers. Appearing completely jet black and rivaling week-old coffee sludge in appearance, Dark Lord's nose roars with dark chocolate, burnt toffee and molasses, roasted coffee, and sherry-soaked dark fruits. If you can get beyond marveling over its incredibly thick mouthfeel, the flavors invoke notes of dark and burnt chocolate, molasses, tobacco, chicory, and hints of earthy hops.

CUVEE DE TOMME
The Lost Abbey, San Marcos, California
alcohol content 1.O% ABV
Starting with a base beer of Quadrupel, this beer, named after The Lost Abbey's brewmaster and co-owner, pours a deep brown hue with sprinkles of crimson patches shining through and a light wheat colored head. A full sniff brings in a substantial waft of fresh sour cherries, a touch of saccharine and a brimming tartness that hits your jaw even before you sip – all with a slightly hot alcohol note. The beer expands in the snifter to reveal a surprisingly complex array of flavors, including tart cherries, a measured yet radiating barnyard funk and a deep presence of dark fruits mixed together, all next to hints of oak, vanilla and other spices.

HEADY TOPPER
The Alchemist Pub and Brewery, Waterbury, Vermont
alcohol content 8.O% ABV
At the inventive Alchemist Pub in northern Vermont, visitors can sample a wide range of impressively flavored American ales. The bruising Heady Topper appears with a dull and mildly hazy apricot tone and a marble crest of foam. Engorged in hop aromas, from grapefruit to freshly cut citrus rind and with some darker, resiny hints, the nose also hints at light pale malts and a touch of alcohol warmth. Wanting to please, the flavor continues with a tropical essence of hop flavors, with slick grapefruit tones and a moderate, lingering bitterness that hangs around the edge of your senses. Heady Topper does not tend to travel particularly well, with noticeable diminishment of the hop aromas and flavors after only a few weeks and a marked color change due to oxidation after a month or so.