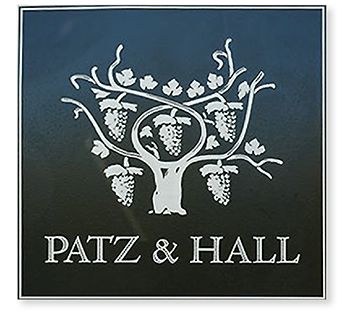 Article By: Sandy Block, MW
Business partnerships rarely work but the dynamic duo of Donald Patz and James Hall, proprietors of the eponymous winery that bears their names, is a sterling example of how one plus one sometimes equals three. A marketer committed to developing long term relationships that guarantee access to some of California's finest vineyard sites, a winemaker able to craft
a multitude of terroir-expressive wines that lead the market, this is obviously a winning formula. They speak with one voice and their primary message appears to be that it all comes down to the quality of the grapes. Ironic since the team owns no vineyards, but they have evolved a model that works. Why tie up capital in land? In fact, Patz and Hall are intimately involved in grape-growing and harvesting decisions at the vineyard parcels they source, even to the extent of compensating growers by the acre rather than by the ton (thus dis-incentivizing the quite natural tendency to over-crop even a little). The proof is in the pudding and given the number of different cuvées that they produce, the quality of the Chardonnay and Pinot Noir across the board is nothing short of amazing.

A recent tasting that they hosted previewing their 2O12 Chardonnay and Pinot Noirs illustrated the results of all the hard workPatz & Hall have put into sourcing from some of California's most sought after vineyard sites. Richness, suppleness and depth of flavor are in evidence across the board. Perhaps not surprising since the vintage has been hailed as one of those miraculous concurrences where quantity (high for the first time since 2OO9) and quality are ideal. Weather was mild, dry and tranquil from bloom through harvest, yielding a bumper crop of delicious, healthy and well-ripened fruit. The best news for consumers? There is adequate supply of top quality wine to match demand for the first time in years and, judging at least by my preliminary assessment, the concentration level indicates that many of the 2O12s are eminently ageable.

What follows is a rundown on the illustrious Patz & Hall lineup, tasted in February 2O14.

The proof is in the pudding and given the number of different cuvées that they produce, the quality of the Chardonnay and Pinot Noir across the board is nothing short of amazing.

SONOMA COAST CHARDONNAY 2O12
James Hall notes that simply because this cuvée incorporates the fruit of multiple vineyard sites it should not be considered a secondary or "declassified" wine. A cuvée of this type is probably the most difficult wine Patz & Hall makes, as it requires superior blending skill. Having followed it for a number of years, the wine is consistently outstanding, but the 2O12 has something special. Medium deep in color, with a pear, almond and smoky note, it is ripe and fresh, but also ultra-creamy in texture. There are beautifully integrated spice and mineral notes punctuating the finish. The largest proportion of fruit here is from Gap's Crown, a vineyard on Sonoma Mountain that overlooks the Petaluma Gap, but there are also components from such storied Sonoma vineyards as Durrell, Dutton Ranch and Zio Tony.

DUTTON RANCH CHARDONNAY, RUSSIAN RIVER VALLEY 2O12
Originating from the sandy loams of the storied Dutton Ranch, this wine features a signature tropical aromatic note accented with floral, melon-like and vanilla scents. It's a bit more subtle and understated in flavor than the Sonoma Coast cuvée – less overtly toasty. Very round and fleshy, it leaves a mild apricot impression with a lingering grace note of peachpit minerality.

HUDSON VINEYARD CHARDONNAY, CARNEROS 2O12
This vineyard is situated very close to the San Pablo Bay and benefits from the maritime fogs and breezes of its location to produce lush but beautifully structured Chardonnay. Its aromas are distinctive and bold: mushrooms, ripe pear, earth, smoke, cloves, roast meat. The palate offers the thickness of custard, with a toasted nut character and penetrating acids. A young wine that is already delicious but begs for a few years of bottle age.

HYDE VINEYARD CHARDONNAY, CARNEROS 2O12
I vividly recall a viticultural tour of this vineyard in the "cool climate" Carneros hosted by proprietor Larry Hyde where the late morning temperatures were pushing 1OO degrees! Hyde Chardonnay holds a number of different opposites in a delicious tension: delicate apple and herb scents with roasted nut aromas, the texture of butterscotch with vibrant lemony acids, silky and edgy. My favorite Chardonnay of the tasting, at the level of a top Premier Cru in complexity, length and concentration.

ALDER SPRINGS CHARDONNAY, MENDOCINO 2O12
From a relatively unknown vineyard in northern Mendocino, this wine's cloudiness reflects the decision Patz & Hall makes not to filter any of their wines. Buttery, round and soft, it's a bit less vibrant in character than the other Chardonnays, with an attractive apple and pear and a slightly honeyed mid-palate impression.

SONOMA COAST PINOT NOIR 2O12
There is nothing "entry level" about this blend. A charming
Pinot, ripe and earthy, with a blossomy floral perfume, gamey notes, wood smoke, and herbal scents. This is also largely composed of Gap's Crown grapes, with a similar mix to the Sonoma Coast Chardonnay, including Durrell, Dutton Ranch and Parmelee-Hill Vineyard in Sonoma Valley. A clean tasting, fresh juicy Pinot with intriguing herbal undertones.

JENKINS RANCH PINOT NOIR, SONOMA COAST 2O12
Jenkins sits on classic sandy Goldridge loam soil – it is located close to the Pacific in the middle of the Petaluma Gap, contributing perhaps to the delicate floral herb notes and the sharply acidic flavor profile. The fruit is surprisingly sweet, with rich red cherry accented with a note of browned meat, ripe tomato and clove.
A very interesting wine with a soft, mellow personality and a side note of herbs and spice.

BURNSIDE VINEYARD PINOT NOIR, RUSSIAN RIVER VALLEY 2O12
This was a marvelous surprise – a cold climate vineyard owned by the esteemed Martinelli family with which I was not familiar. Light in color, the aromas were delicate and forest-like, with a note of cinnamon and cherry blossom. Very lush and juicy on the palate, it's saved from being a fruit bomb by persistent savory notes of sage and thyme that balance the gorgeous cherry flavors.

GAP'S CROWN PINOT NOIR, SONOMA COAST 2O12
Leafy and aromatic, with exotic spice box notes and a thick round texture, this is Pinot on a richer, more velvety scale. The fruit is highly extracted and there are lush coffee and baking spice notes to balance it. A bit higher in tannin than the other Pinots, this is oozing with fruit and strikes me as still in its infancy.

HYDE VINEYARD PINOT NOIR, CARNEROS 2O12
Equally as stunning as the Chardonnay, this strawberry and rose-scented Pinot defines the word "supple". Silky and layered, but with an intriguing core of cinnamon, clove and sage, this savory Pinot is flat out delicious.

PISONI RANCH PINOT NOIR, SANTA LUCIA HIGHLANDS 2O12
From one of Monterey's most famous mountain vineyards, this is the biggest, most extracted and boldest Pinot that Patz & Hall produces. It's super toasty, with roasted coffee, chewy, almost black fruit notes. With undertones of damp earth and root vegetables, this is very sensual in style, despite the tannic kick. A recent opportunity to taste this same wine from the 2OOO vintage provided a bit surprise as it still tasted young and quite unevolved.