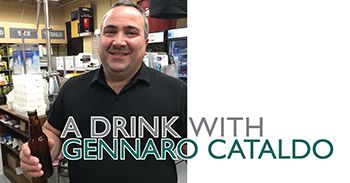 Article By: Brandy rand
GENNARO CATALDO
Owner
Beer and Wine Hobby
TUCKED AWAY in an industrial office park right off Route 95 in Woburn is 5OOO square foot warehouse dedicated to the art of making something to drink. No, it's not a craft cocktail bar nor is it a bartending school. Beer and Wine Hobby is the ultimate do-it-yourself store, shelves stacked with brew kettles, barrels, fermenting tanks, hops, grains, and grapes – with a few smokers and cheese molds thrown in for good measure. The commercial craft distilling boom coupled with the movement to buy local has given birth to a new breed of garage distillers and grape-growing hobbyists, all who find their way to Gennaro Cataldo's front door. He not only services consumers, but also sees members of the beverage trade who may need a little something for their business. From bottles to racks, from fruit purees to cordial extracts, creative drinkers can find something to both inspire and imbibe. Cataldo offers monthly classes on beer, wine and cheese making, along with recipes and ideas for the novice and professional. He gave me a tour of the store as he prepared for spring wine season.

BRANDY RAND When did you open and what was the inspiration behind the store?
GENNARO CATALDO The company was started in 1971. Based on my research, it is the oldest craft brewing and winemaking company in the country. I decided to get into this because it's a passion of mine and my family's, as we've been making wine and beer for over 25 years. The original owner wanted to retire and I thought it was a perfect time to turn our family hobby into a profession.

BR Who is your typical consumer?
GC People of all ages and walks of life make wine, beer and cheese from home. They love the fun of making things on their own and share a passion for what they do. On Saturdays, our customers get together in our store just to talk about beer and wine, then pick up a few things to make their next batch.

BR What are the most popular items you sell?
GC It varies. During wine season, it's all about the wine equipment and fresh grapes and juice. Brewing season is always popular [and pretty much always in season, too]! Over the years we have seen a tremendous increase in people who make their own wine and beer.
BR How have you seen your online versus in-store business grow over the years?
GC Both have grown as the market has matured. We're busy all year 'round! There's always something going on with craft brewing, wine making and cheese making.

BR Your store is a treasure trove of unique products. What are a few specialty items you are most excited to be able to feature?
GC I love to offer new things, most recently lots of stainless items and connectors for all-grain brewing.

BR What style or brand of beer are most people trying to emulate when they brew at home?
GC Everything! People really like to brew oldies and new unique beers that are a challenge to craft. Winemakers always love to find ways to improve their wines.

BR Do you make your own beer and wine? If so, what is the number one thing you've learned?
GC I sure do, when time and the season permits. Number one thing to be good at is cleaning and sanitizing! It's the most important thing about craft brewing and winemaking.

BR Craft beer is on fire.
Have you helped any brands get started?
GC Professional micro- and nano-brewers often visit to pick up specialty supplies, items they may need in quantity or just something they run out of.

BR You also have a lot of artisanal food items for sale. Are you a foodie?
GC Sure! We love great vinegars and oils, plus we offer artisan cheese making ingredients, equipment and classes.

BR You offer kits for making wine, soda, vinegar, even absinthe. Is do-it-yourself (DIY) really that simple and can you taste the difference?
GC DIY is so simple, very quick and fun! Most of the cordial kits – especially my favorite, the Irish cream recipe – takes only five minutes to craft.

BR What's the coolest thing you've seen a customer create using items from your store?
GC I've seen so many! Terrill Mead created a Jalapeno Cream Ale that we offer as a craft brewing kit. It's awesome! Using roasted poblanos and jalapenos, the cream ale offers all the flavor of the peppers in the beer . . . without the heat! It's a truly unique kit.
BR What do you like to drink?
GC These days, our Watermelon Ale kit [it brings you back to warmer days] and our new Beer Hall Helles – a partial mash lager kit that is light, crisp and fun to drink.

---
MY COUSIN VINNY'S IRISH CREAM

1½ CUPS of Clontarf Irish Whiskey
1 BOTTLE of Beer and Wine Hobby's Irish Cream Essence
1 CUP of sugar
1 TEASPOON of instant vanilla pudding
2 CUPS of light cream

Mix first four ingredients in a blender on high for five minutes. ADD two cups of light cream and STIR for one second (one pulse). CHILL and enjoy.