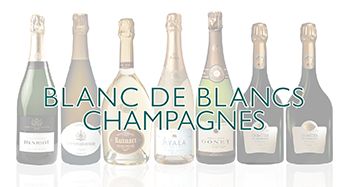 Article By: Sandy Block, MW
Among the most interesting and delicious but least understood Champagne categories on the market is the pure 1OO% Chardonnay Blanc de Blancs. Softly textured and nuanced with aromatic complexity, Champagnes made exclusively with white grapes are not only highly reflective of their terroir origins but they can also often prove quite ageworthy as their prominent natural acidity helps preserve even the Non Vintage examples. The myth that you have to drink Champagnes soon after release is clearly exposed when you pull a well-aged Blanc de Blancs from the cellar. With sleek contours, the wines show great versatility accompanying most white fleshed fish and seafood preparations, especially those balancing delicate flavors, citrus influences and preparations incorporating a mild creamy sauce. They are especially satisfying with fish cooked in a low key, understated manner – enlivening rather than overwhelming their subtleties as more assertive fuller bodied wines might do. Outstanding counterpoint to lobster or king crab in a drawn butter, the crispness of a good Blanc de Blancs will invigorate the flavors of Dover Sole as well as most any crustacean. It's also the style of Champagne I would choose first as an aperitif.

Why is Blanc de Blancs Champagne so little known then? Because Americans resist drinking any Champagne with food. We reflexively reach for a bottle when celebrating an occasion but rarely choose to drink the divine bubbly with food. All-Chardonnay cuvées are not easy to find, but the magic they weave with the right dish must be experienced to be believed. At my most recent blind tasting of vintage as well as non vintage Blanc de Blancs, I was pleased to see a number of lesser known producers represented.

The majority of the wines acquitted themselves quite well and there were a number of stunners. A few of the wines may have tasted a bit aggressive, but on the whole there were several to recommend. The following appear in order of preference.

HENRIOT BRUT NV
This small, family owned house makes one of the most consistently reliable wines in the category, with all purchased Chardonnay from the Côte de Blancs. The wine shows a classic expression of vanilla, peach, toast, and lemon. Silky to the touch, it is ultra-dry, elegant and long on the palate, with chalky notes, lightly toasted bread and bright citrus flavors. Refreshing and dry, it literally opens your palate. This is what Blanc de Blancs is all about!

LARMANDIER-BERNIER
"LONGITUDE"
PREMIER CRU, BRUT NV
From another family producer, this is a 35 acre estate in the Côte de Blancs (mostly based in the Premier Cru Vertus and renowned Grand Cru's Cramant, Avize and Oger) that is certified Biodynamic. Fermented in a combination of neutral oak and stainless steel containers, it uses a minimalist dosage and incorporates a very high percentage of older reserve wines. Larmandier-Bernier are Chardonnay specialists who, unlike the vast majority of other Champagne producers, use only indigenous yeasts to carry out fermentation. They also put the wines through a secondary malolactic conversion, softening their edges. Everything in the cellar is done by hand, including riddling and disgorging. Minerally and clean, this hand crafted Blanc de Blancs' richly textured apple-like creamy fruit is accented with luscious caramel and spice. A pure joy to drink.

RUINART BRUT NV
Ruinart are also Chardonnay specialists, but interestingly enough the source for its grapes is not in the Côte de Blancs. They own a number of east facing, steeply sloped Premier Cru plots growing Chardonnay in the Montaigne de Reims. With brioche, fragrant white flower and gingerbread aromas, this wine's charming fruit notes and assertive minerality persist and linger on the palate for quite an extended period after swallowing. Ruinart crafts this elegantly balanced Blanc de Blancs to be firm and authoritative in flavor.

AYALA BRUT 2OO5
Owned by Bollinger, Ayala is another producer of Chardonnay-based cuvées that uses only a very modest dosage of sugar. This well matured vintage wine is composed of 1OO% Grand Cru Chardonnay from Le Mesnil-sur-Oger, Avize and Chouilly. Round, rich and ripe on the palate, with toasted nuts, strong autolytic aromas, caramel, butterscotch, and baked bread, this is surprisingly lush in texture. It has a baked apple, almost confectionary, character that is mellow but balanced with some tart and mineral flavor accents. Great pedigree, great intensity and concentration.

PHILIPPE GONET
LE MESNIL SUR OGER BRUT SIGNATURE NV
This magnificent wine is a rare non vintage Grand Cru from one of the villages that many regard as occupying the very top of the Champagne pantheon. The seventh generation family estate, founded in 183O, now owns almost 6O acres, of which the vast majority are planted to Chardonnay. This minuscule production cuvée originates from their 15 acres of mostly old vine Grand Cru le Mesnil. Bone dry with tart citrus flavors, it has the delicate aroma of a lemon cookie. On the palate it holds a number of seeming opposites in delicious tension: chalky and caramel-like at the same time, with layers of tart apple, tropical fruit and citrus. Supple, lingering and absolutely delicious!

TAITTINGER "COMTES DE CHAMPAGNE"
2OO4
The great family owned house of Taittinger produces their luxury tete de cuvée as a Blanc de Blancs that to me is often the epitome of finesse and Champagne elegance. Taittinger is somewhat unusual for one of the major producers in that a majority of its grape needs are supplied by estate grapes. The Comtes 2OO4 is classic, well matured Chardonnay: ripe, creamy, lemony, and apple-like, with a hint of lightly toasted nuts. Understated and round, the wine exhibits phenomenal balance. As it evolves in the glass, hidden mineral notes surface, while palate-filling racy green apple flavors offer textbook Blanc de Blancs satisfaction. It can age for another decade, at least.

2OO5
A somewhat leaner, thinner version of the 2OO4, this wine is crisply edgy, with subtle vanilla, herb-like and chalky flavor tones, but initially impacts the palate without the flesh of the 2OO4. Wines of this quality should not be served in flutes but in wider bowled glasses, and with more aeration the class of the 2OO5 shows. Notes of baked brioche, lemon zest, ripe apple, vanilla, and mineral emerge – and although the wine is still a bit closed in on itself, its potential is apparent. At this stage, the Comtes would be perfect with raw shellfish, but my suspicion is that in a few years time, with more development, it will be an ideal match for any poached white-fleshed fish accompanied by a lemon butter sauce.