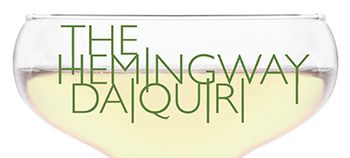 Article By: Pink Lady
IF YOU'VE CAUGHT the Boston cocktail community's latest fad/tradition, you are well acquainted with the Daiquiri Time Out. To the indoctrinated, taking a DTO is simply taking a break from your hectic life to sip on a Daiquiri. A simple mixture of rum, fresh lime juice and sugar, the drink is classy, accessible and, most of all, refreshing. Couch that moment in laid-back repose and the effects are elevated from delicious to restorative.

Now let's jazz it up. Ernest Hemingway may be best known as a literary icon but as bookish cocktailians know, he's a cocktail icon too. The man famously drank copious amounts of many things. "From the battlefield to the bullfight, from Paris to Venice to Madrid to Kilimanjaro to Key West to Cuba, Hemingway lived globally but ate and drank locally, to get the flavor of the place," writes Phil Greene in the HUFFINGTON POST. Greene's book, To Have and To Have Another is an homage to the man and his cocktails, and a delight among them is Hemingway's eponymous Daiquiri.

The history is murky at best, but from what we know Hemingway was a fan of Daiquiris poured at Havana's El Floridita bar, only he ordered his with no sugar and double the rum. Please bypass his recipe and go straight for the drink it morphed into, which contains grapefruit juice and maraschino liqueur. God knows who devised this fancy-pants take on the original, but it's a worthy addition to your cocktail arsenal.

As the weather warms and the days grow longer, why not treat yourself to a Hemingway-styled Daiquiri Time Out? We think you deserve it.

HEMINGWAY DAIQUIRI
2 ounces of light rum
¾ of an ounce of fresh lime juice
½ of an ounce of grapefruit juice
½ of an ounce of Maraschino liqueur

Shake ingredient with ice and strain into a coupe.


Cin-Cin!