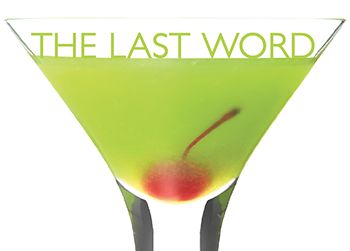 Article By: Pink Lady
HIGH-PROOF SPIRITS are making the rounds at the local cocktail dens in our fair city: shots of overproof rum served with questionable judgment at last call, Navy strength gin making its way into martinis. Building cocktails with these boozy potations presents an interesting challenge for bartenders who must muscle the proof into a drink that is sippably strong.

We are particularly fond of the Last Word, a drink that employs green Chartreuse, a 11O proof liqueur from which the Crayola color takes its name, as a modifier. This storied product was originally developed based on an ancient manuscript for an "Elixir for Long Life". It has been produced by a silent order of Carthusian monks in the French Alps since 16O4 – save for a spell when the entire production had to be move to Tarragona in Spain during the French Revolution. The recipe was nearly lost at that time and had to be smuggled out of a French prison to be preserved, according to the lore. As such it is a closely guarded secret, known by just three monks who learn individual bits of the formula.

It's quite fantastic, like something you might read in a Dan Brown novel. I had the fine fortune to take a trip to the distillery several years ago and discovered a peaceful operation nestled in a bucolic town, the profits of which support the order in their vows of poverty and service. It's quite a special and spiritual place, where sipping Chartreuse after dinner is common practice among locals.

On this side of the pond, however, Chartreuse can take a turn as either your hangover-inducing last call shot, an after dinner digestif or, as we find it in The Last Word, as a powerful modifier. In his 1951 book Bottom's Up, Ted Saucier describes the drink as an actual Prohibition-era tipple credited to the Detroit Athletic Club and later popularized monologue artist Fred Fogarty during in the 192Os.

The drink was forgotten after Prohibition. Its modern popularity is credited to bartender Murray Stenson, who unearthed the recipe from Saucier's book in 2OO5 after which it developed a cult following, first at his Seattle bar The Zig Zag Room and later from coast to coast.

Thanks, Internet!

---
THE LAST WORD
¾ ounces of gin
¾ ounces of Maraschino liqueur
¾ ounces of green Chartreuse
¾ ounces of lime juice

shake ingredients with ice in a mixing glass.
strain into a chilled cocktail glass.
garnish with a Maraschino cherry.

Cin-cin!