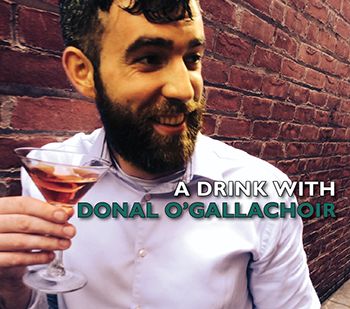 Article By: Brandy Rand
A DRINK WITH DONAL O'GALLACHOIR
Brand Manager for Glendalough Irish Whiskey
IF YOU HAVE YET TO meet Donal O'Gallachoir, you soon will. This Irish-born brand ambassador and self-described whiskey nerd is spreading the gospel of his country's original spirit: poitín (pronounced "potcheen"). He recently moved to Boston and is finding a home among the city's many Irish bars and mixology-focused establishments. With a fascinating history and decidedly unique flavor profile, poitín is capturing the interest of bartenders and consumers thanks to O'Gallachoir's passion and knowledge. Here he shares his insights on the evolution of distilling in Ireland – with Glendalough, the country's very first craft distillery – as well as poitín drinking tips.

BRANDY RAND Tell me a bit about your background in this industry.
DONAL O'GALLACHOIR
I first cut my teeth doing market activation and promotion on some well-known Irish whiskey, cider and stout brands, back in Ireland, at the ripe age of 18. I did this through my college years. I advanced through the ranks and began leading big brand promotional campaigns. Got hooked on the industry from there.

After graduating, I had the great chance to work for a boutique range of Irish whiskeys. Here I learned the business from the ground up. I got certified as a Spirits Specialist and generally became a big Irish whiskey nerd! I devoured books on distilling, old Irish distilleries and the influence of whiskey in Irish folklore. I could rattle on for hours about the subject and often still do. I initially worked in the Atlanta market, and then across the US from east to west coast and everywhere in-between. I experienced first-hand the changes taking place and the opportunity in the Irish spirits category.

Then, a couple of years ago, my cousin Barry Gallagher, the managing director of the Glendalough Distillery, and a few friends asked me to get involved in something that I didn't need to think twice about – they were proposing to bring about something new and exciting in the Irish category. They set up Ireland's first craft distillery, with the plan to reclaim some of the lost heritage of Irish distilling and offer new and interesting expressions and styles. I knew I had to be a part of it.


BR Irish distilling has a long history, but there have only been a few active distilleries in recent years. That seems to be changing quite rapidly. Why?
DO Ireland once had over 2OOO distilleries at its height. We exported Irish whiskey to every corner of the world. We then had a fall from grace, due to wars, taxation, trade issues, and Prohibition. We were nearly wiped off the map. During this downfall blended Scotch was allowed fill the gap. Up to a few years ago there were only three or four large commercial distilleries in Ireland. I believe there are 1O to 15 distilleries in planning now.

Glendalough is the first craft distillery in Ireland. In reality craft distilling is just beginning in here and we are very proud to have pioneered that. It's an exciting time. We know Irish has been the fastest growing category for years now but I believe we have just scratched the surface.

Ireland has the longest and richest distilling history, so there is a wealth of styles of distilling and old brands that are now being rediscovered. As Ireland's first craft distillery, we really want to introduce people to these different styles and expressions of distilling and tell them those long forgotten stories. We are at the coal face of this rediscovery, and we hope more guys join us on the journey – it has a great future.

BR What is poitín and why introduce to the US now?
DO Poitín is the first spirit ever distilled. Irish whiskey is a direct descendant and, in fact, all whiskey and all distilled drinks can be traced back to poitín distilling in Ireland 14 centuries ago. Poitín in its old style is from a pot still with a malted barley mash bill. It was first made with expertise and reverence in monasteries like Glendalough by Irish monks who were the master distillers of their time. Poitín distilling thrived all over Ireland for the next thousand years. Kings sent envoys the length of the known world to bring back this famed "uisce beatha" (water of life).

After distilling knowledge went beyond monasteries, making poitín gave poor and oppressed Irish communities a small mark of independence over wealthy landlords and the British crown. It was outlawed on Christmas day in 1661 by King Charles II, in attempt to stamp out an industry that wouldn't give him any tax – an attempt most paid no attention to. Rebellious Irish distillers disappeared into the wilderness and continued to hone their craft regardless. Quality was such that it still outsold Irish whiskey well into the 18OOs. It was now a clandestine craft, hidden in remote glens where the winds swept through, breaking up the smoke of the peat fire.

Making poitín was this older style of distilling that was your life and livelihood; your reputation was built on the quality of your spirit. Oftentimes the only source of income was poitín and many communities fought to protect it. On the Island of Innis Murray, Martin Hegarty didn't like this new law outlawing poitín so declared Innis Murray a kingdom and himself the King and turn the island into a massive distillery exporting all over island and abroad. Distillers in Dongeal, when stopped by the British tax agents and army, simply fired their guns to protect their industry.

The craft of poitín making had by now seeped into all areas of Irish culture, from our legends and folklore, to our music and songs. The Church, the British crown, the Irish state, and various temperance movements all attempted to stamp out poitín distilling to no avail. The law pursued distillers right up until 1997 when it was legalized.

BR What is the significance of Glendalough as your brand name?
DO Earliest records from approximately 584AD show that Irish monasteries, like Glendalough in County Wicklow (where I come from), were the birthplace of distilling. These Irish Monks distilled spirit and stored it in wood. This is where it all began.

Glendalough ("the glen of two lakes") itself, is a glacial valley located just south of Dublin, in scenic County Wicklow, known as "the garden of Ireland". It is one of the most popular places in Ireland, with over a million people visiting each year (Ireland's population is only four million). It is renowned for its natural beauty and also its monastic settlement which was founded in the 6th century by St. Kevin, a legendary monk – the guy on our bottle. In the story of St. Kevin, our brand attitude and personality is personified. He possessed the courage of his convictions that so attracted people to him. Being born into Irish nobility didn't stop him breaking out on his own and following his own path. He stood out as a leader, building a civilization in an isolated valley. In particular, the story of Kevin and the blackbird provides the main allegory of our brand.

BR How has the reception by trade and consumers been so far?
DO It has been extremely positive. We launched only a few weeks ago and there has been serious accounts getting behind us and reorders are going thick and fast. We are humbled by the support people are giving us.

People in the trade and consumers alike are intrigued by poitín and want to know as much as possible about this relatively unknown category. Honestly, they are delighted to find something that is new and interesting out of Ireland.

This is definitely a good time for the Glendalough Distillery and the release of our range. The trends are helping us: raft distilling is on fire, the Irish category is set to double by 2O2O, the establishment of niche white spirits such as American moonshines and craft gins, and quality spirits such as cachaça and pisco being re-discovered.

BR How would you describe the taste to someone who has never had poitín? How can you drink it – straight, cocktails?
DO I often will describe it as having the body of a single malt whiskey but carrying the sweetness of a rum. We have taken traditional poitín recipes and brought them back to life. We have three styles: Glendalough Premium Irish, from a mash of malted barley and sugar beet, batch distilled and finished in virgin Irish oak. Glendalough Sherry Cask Poitín is a style from a famous distiller of old. Finally, we have our Glendalough Mountain Strength Poitín, we only add a drop of water off the still, and this is bottled at 12O proof.
So, say, take our Glendalough Premium Irish Poitín – on the nose, it has nice berried fruit sweetness, very much blackberries, blueberries and sliced apple. There is a big, thick and creamy mouth feel with a big body, hints of cracked pepper, toasted oak and vanilla. On the finish it keeps its length, retains that sweetness with a small amount of spice.

BR How does one drink poitín?
DO For your spirits and whiskey drinkers I would just put it in a glass, a cube of ice if that way inclined, and sip away. But for those who like cocktails and mixed drinks, Glendalough Poitín is perfectly suited, from the small batch production and unique mash bill of malted barley and sugar beet (a historic crop used heavily in Irish distilling). It holds its flavor and complexity, very easily complements and is hard to mask. We have seen the best bartenders in Ireland come up with some ingenious cocktail creations, this is occurring over here, too.

BR How do people in Ireland drink poitín it? Any unique traditions over there?
DO There are many historic records of it being mixed into drinks. One dates back to the 16OOs, where poitín was mixed with honey, mint leaves and hot water. We have seen this come back, it is now being used heavily in cocktails around Dublin, from your basic mixed drinks to your more complex cocktail creations. On a side note, it is thought that poitín mixed with cream is actually where the creation of Irish Cream originated from.

BR You just moved to Boston, which is known as a pretty Irish town. How do you like it? What has been your favorite "Boston" experience so far?
DO I am loving Boston. Boston to me is that point where Ireland and the United States meet. I always feel at home and yet also slightly away from home, too.

To that, I was in the Brendan Behan in Jamaica Plain with some friends one Saturday, it was busy and there was lots of 2O-somethings having drinks and chatting, all seemed like they were local Bostonians. Then, as if from nowhere, a group in the corner break into an old Irish song and start playing Irish traditional music. This was a very Boston Irish moment to me, because it shows that link between modern cosmopolitan Boston and that historic connection with Ireland.

BR Irish bars seem to be a natural fit for poitín. Do most of them know about its heritage?
DO There is a definitely a great fit for Irish bars with Glendalough Poitín. Irish bars are changing over here and in Ireland. They are embracing craft beer, farm to table menus and developing progressive cocktail menu. This is really going back to the original Hibernian tavern tradition.

Glendalough Poitín fits hugely for Irish Pubs and speaks to the original Irish spirit and the heritage of distilling. Every Irishman, worth his salt, knows about poitín – and most likely will have a bottle hidden away somewhere. Every Irish person has a story; it is great hearing them all.

BR Any plans for Irish whiskey?
DO The Glendalough Distillery definitely has plans for releases in the Irish whiskey category among other categories, too. Keep your eyes peeled for these – we are very excited!

BR What other markets is Glendalough currently available and plans for expansion?
DO Glendalough is currently only available in Massachusetts through Atlantic Importing and in New York. We want to keep it small and targeted, where we can walk into the bars and stores and know the guys and see what we can do to help the business. We want to build the brand with that personal touch so we don't want to put it everywhere.

BR What have been your favorite cocktail creations by Boston bartenders so far?
DO Either The Cardinal created by Manny at Foundry on Elm/The Saloon in Somerville or the Honey Croppie from James at The Temple Bar in Cambridge.